November 7, 2003
'An apple a day' popular at residence halls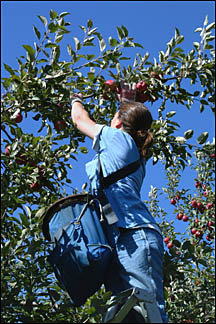 Chieftain apples, developed at Iowa State, are picked near Gilbert to be served in numerous dining venues on campus. Photo by Grant Steinfeldt.

by Ed Adcock, Ag communications
Residence hall students are eating up an Iowa State University legacy.

Apples developed by Iowa State horticulture professor Spencer Beach have become a favorite of residence hall students. In 1917, he crossed Jonathan and Delicious varieties and came up with what some consider the best of both: a very good eating apple that also stands up to cooking -- the Chieftain.

About 250 bushels of the Chieftain variety grown at the Horticulture Station near Gilbert are being served in the dining halls, Hawthorne Market and Cafe and C stores on campus, as well as Hazel's Kitchen at Reiman Gardens.

"We've had all positive comments," said Jamie Lenz, interim food stores manager. "The apples have a much better flavor than the Red Delicious." (Usually Red Delicious apples from Washington State would be available to students at this time of year.)

Signs tell about the Chieftain apples' origin and Iowa State connection, something Lenz has heard students comment about. The students are eating 25 to 30 bushels of the apples a week, so they might last through the end of the semester.

This fall was the first time the apples were offered to ISU Dining, said Mark Honeyman, coordinator of the Iowa State Research and Demonstration Farms. The office recently began managing the Hort Station after a reorganization of Iowa State's research farm operations around Ames.

"We're trying to be innovative," Honeyman said. Proceeds from the sale will pay for supplies at the Hort Station.

The labor-intensive task of picking the apples was handled by prisoners from the Correctional Institution for Women in Mitchellville. Sorting and packing the apples was a team effort by the Research and Demonstration Farms campus staff, the Hort Station crew and students who are members of the Horticulture Club.

The club buys apples from the station and has sold them at Reiman Gardens as a fund-raiser. The club gets a reduced price in return for members' help in sorting and packing. The rest of the apples grown at the Hort Station, about 45 varieties in all, are sold to commercial orchards in the area.

The station's Chieftain apple orchard is the most mature, but Macintosh, Jonathan, Gala, and Red and Yellow Delicious also are represented, said Will Emley, station superintendent. Emley hasn't figured up this year's yield yet; last year about 1,800 bushels of apples were harvested. Apple research at the station mainly consists of disease resistance trials and tests of how different varieties adapt to Iowa's climate.

Station apples also have found their way into dishes served at the Joan Bice Underwood Tearoom. Freeman Moser, Tearoom coordinator, said the menu soon will include a baked apple with a ginger hard sauce and homemade apple strudel.

Providing apples to campus units is mutually beneficial, Honeyman said, and he hopes it will be a long-term relationship.




---

Ames, Iowa 50011, (515) 294-4111
Published by: University Relations, online@iastate.edu
Copyright © 1995-2003, Iowa State University. All rights reserved.