October 24, 2003
Morrow is no stranger to ISU athletics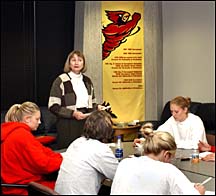 Paula Morrow (standing), University professor of management and ISU's faculty athletics representative to the NCAA and Big 12 conference, administers an NCAA survey to members of the women's basketball team. Photo by Bob Elbert.

by Diana Pounds
Paula Morrow is one month into the busy role of faculty athletics representative to the NCAA and Big 12 Conference. But the University professor of management is well prepared for the job. Morrow has been involved in Cyclone athletics for the past 10 years, serving on the Athletics Council and its executive board, and chairing the committee that evaluates student-athletes' academic progress.

In her new half-time position, she advises the president on athletics matters, helps oversee the academic integrity of the athletics program and student-athletes, promotes student-athlete welfare, and investigates reports of rule violations. She is the point person for all kinds of information that flows between the university, the NCAA and the Big 12 Conference. In addition, she functions as a liaison among various campus groups such as the administration, faculty and staff groups, the athletics department and student-athletes.

"These are tough times for athletics departments," Morrow said.

Large tuition increases hit athletics departments especially hard because those departments pay tuition, room and board for their scholarship athletes.

Iowa State's scholarship bill went from $3.69 million in fiscal year 2002 to $4.48 million in fiscal 2003 and it will reach nearly $5 million this year. The money crunch makes it difficult to provide the support services athletes need to be successful, she said.

Still, Morrow is encouraged by Iowa's State's student-athletes and fans.

"Most of our student-athletes are just spectacular academically," Morrow said. "Last spring semester, more than one in five Cyclone student-athletes were on the dean's list, and nearly half were named to the Big 12 Commissioner's Honor Roll for posting 3.0 GPAs or better the previous semester."

Morrow added 62 percent of student-athletes who entered Iowa State from 1993 through 1996 graduated within six years. Among all Iowa State students, 63 percent graduated in six years.

Cyclone fans are a real strength, she added, because they're interested not just in a competitive program, but a clean program. "It's not a 'win at all costs' fan base."


---

Ames, Iowa 50011, (515) 294-4111
Published by: University Relations, online@iastate.edu
Copyright © 1995-2003, Iowa State University. All rights reserved.