October 24, 2003
The art of dyeing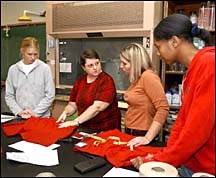 Sara Kadolph (center) instructs students in a textiles lab. Photo by Bob Elbert

by Kevin Brown
When friends call Sara Kadolph at her century farm near Hubbard, they are at times alarmed when she tells them, "I can't talk now, I'm dyeing."

Alarmed only until they remember Kadolph's research history with alternative crops, natural dyes, and product and material analysis.

The line does, however, startle some telemarketers.

"There's an important 'e' in there," Kadolph joked.

Kadolph, a professor of textiles and clothing, said her research is a natural extension of her family farming background.

"My grandfather and father farmed the land my brother now does," Kadolph said. "Iowa farming today is too concentrated in corn, soybeans, hogs and chickens. I've always been interested in the potential to diversify Iowa's crop base in ways that are non-polluting, renewable and sustainable.

"I look at a crop from two different perspectives: first, what may we grow that contributes to a value-added product, such as a plant breed suited as a dye; and secondly, I consider the crop residue -- what's left that can't be marketed -- and can I identify some things that produce color?"

Once she has identified color, Kadolph will decide if it could be used to dye a fabric.

"I will look to see if the color can be made 'fast' -- can it be washed without fading or bleeding and can it be exposed to light without fading?" she said.


Returning to Iowa State
Kadolph graduated with a bachelor of science in textiles and clothing from Iowa State in 1972. In 1973, she earned a master of science in clothing, textiles and interior design from Kansas State University, Manhattan. She earned a Ph.D. in textiles and clothing from the University of Minnesota, Twin Cities, in 1979.

She taught home economics at the University of Iowa, from 1976 to 1980 before coming to Iowa State to teach textile quality assurance, advanced textile science and textile conservation. Her early research was on the flammability of clothing materials, especially children's sleepwear, and processes for removing farm and garden pesticides from clothing.

She was introduced to natural dyes in the 1990s by a friend, but didn't begin to research the area until she envisioned the potential for rural economic development of small fiber businesses.

"For example, I may study a farming operation where sheep are raised," Kadolph said. "The farmer will sheer the sheep, spin the wool into yarn, dye the yarn, and then sell the yarn as a value-added product. I'd like to study every aspect -- production, marketing, pricing, promotion and packaging."


Growing her own colors
At her farmstead, two acres are devoted to the house and yard and 118 acres to active farm production. Another 60 acres are available for other uses, including a home to several varieties of plants Kadolph uses in her research and for her small business, DyeSeeds.

"I use my crop of dye plants for customer-designed scarves," she said. "I also sell seeds to other dyers."

Some of the plants Kadolph raises are Madder, Dyers' Coreopsis and Dyers' Broom.

Among dyeing techniques Kadolph has studied are "shibori," a Japanese resist method.

A resist technique keeps dye from penetrating into part of a fabric, contributing to the overall design, style and appearance of the finished product.

Kadolph also works with contact dyeing. For example, she uses black walnut hulls as the dye source for some scarves. The fabric is lightly spritzed with vinegar and sprinkled with a little table salt and cooking alum. The fabric then is wadded, put in a plastic bag and left on Kadolph's deck for a few weeks. The vinegar, alum, salt and natural sunlight on the deck help set the color from the walnut hulls. Wadding the scarf produces a random resist pattern.


International color workshop
In 2000, Kadolph shifted her focus from the farm and research lab to a first of its kind conference called "Colour Congress." The international event, hosted by Iowa State, brought natural dye artisans from around the globe. It featured pre- and post-conference workshops and more than 100 academic papers on such topics as an Indigo derivative that may have value as a cancer-fighting drug and ancient dyes used in Peru.

Almost 300 people from 23 countries, 36 states and six Canadian provinces attended the event.

"Before this conference, there were a few regional dyeing gatherings, largely in other countries, but none rising to the academic level of peer-reviewed research," she said. "The congress allowed ISU graduate students to interact with people they would otherwise only hear or read about. They also had the opportunity to study how in some countries, like India, natural dye production is an important engine of local economic development. Here, small niche markets are the norm."

Kadolph serves on the steering committee for a planned 2005 Colour Congress in the United Kingdom.

She is the author of the ninth edition of a widely used college textbook, Textiles, that covers fibers, finishes, weaves, printing and legal and environmental aspects of textile and clothing production.

"I used this textbook -- third edition -- when I was a student here," she said. "This book has always been associated with Iowa State and when the original authors retired, it was a natural transition."




---

Ames, Iowa 50011, (515) 294-4111
Published by: University Relations, online@iastate.edu
Copyright © 1995-2003, Iowa State University. All rights reserved.