October 24, 2003
Holcomb named to student affairs post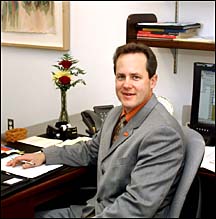 Todd Holcomb started as Iowa State's new associate vice president for student affairs on Oct. 20. Photo by Bob Elbert.

by Anne Krapfl
Todd Holcomb is the new associate vice president for student affairs, effective Oct. 20. Holcomb formerly served as interim assistant vice president for student affairs at Miami University, Oxford, Ohio.

"Todd is a talented and seasoned student affairs specialist," said vice president for student affairs Tom Hill. "He is genuinely enthusiastic about education, student life and Iowa, which is his native state."

In Iowa State's division of student affairs, Holcomb will oversee the budget, human resources, strategic planning and program review. He also will assist Hill with general operations of the division.

Holcomb had worked at Miami University since 1994, serving as associate director and director of the university's office of residence life and new student programs.

He has a doctoral degree in higher education (1992) from the University of Georgia, Athens; a master's degree in education (1987) from Texas Tech University, Lubbock; and a bachelor's degree in psychology (1984) from Truman State University, Kirksville, Mo.

Holcomb succeeds Teresa Branch, who resigned from Iowa State in June to become vice president for student affairs at the University of Montana, Missoula.




---

Ames, Iowa 50011, (515) 294-4111
Published by: University Relations, online@iastate.edu
Copyright © 1995-2003, Iowa State University. All rights reserved.