October 24, 2003
4-H Youth Building will be dedicated Nov. 8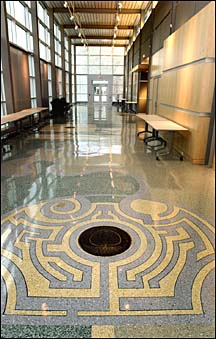 Artists Carolyn Braaksma and Brad Kaspari's terrazzo floors in the "WOW" Center of the new Extension 4-H Youth Building include actual questions posed to Extension staff over the years. Photo by Bob Elbert.

by Anne Krapfl
The Extension 4-H Youth Building, on the corner of Stange Road and 13th Street on the north side of campus, will be dedicated on Saturday, Nov. 8, three hours prior to the start of the Iowa State-Kansas State football game. The game start time is pending a decision on television broadcasting.

Speakers at the dedication include vice provost for Extension Stan Johnson, president Gregory Geoffroy, Owen Newlin, president of the Board of Regents, State of Iowa, ISU freshman Stacey Goodman, and Craig Lang, president of the Iowa Farm Bureau Federation. The federation provided the leadership gift for the $4.7 million project.

The tenants of the nearly 23,000-square-foot building include staff of the Iowa 4-H/Youth Development office, who arrived from four different offices in Curtiss Hall, and the communications arm of ISU Extension, Educational Materials and Marketing Services (EMMS), which moved from the ground floor of Administrative Services Building. Other staff from Continuing Education and Communication Services, of which EMMS is a part, also will arrive from the Scheman Building.

The building also will be equipped with audio and video studios. Extension radio reports, including market reports, will originate from the new building instead of Heady Hall.

The south wing of the building has been dubbed the "WOW" Center, or "Why Opportunity Works." It is designed as a welcome center that will house interactive and multimedia exhibits intended to interest youth in science, technology and other fields of study in higher education.

The WOW Center contains two additions to Iowa State's Art on Campus program: terrazzo floors by artists Carolyn Braaksma and Brad Kaspari, who also collaborated on the floors in the Frederiksen Court community center, and a bronze casting of Christian Petersen's "4-H Calf." In addition, the center will feature a collaborative project, silk and cotton banners designed by Debra Satterfield, assistant professor of art and design, and printed by J.R. Campbell, assistant professor of textiles and clothing.

The dedication event will include tours that highlight the artists' work.

Guests at the dedication may park in lots 120 and 20, south and west of the Extension 4-H Youth Building. The lots are accessible from Stange Road at Daley Drive.




---

Ames, Iowa 50011, (515) 294-4111
Published by: University Relations, online@iastate.edu
Copyright © 1995-2003, Iowa State University. All rights reserved.