October 10, 2003

Scientists are recreating historic Beijing. See below
HCI in action on campus
A little help for the programmers
Programmers who develop visualization programs that involve large, complicated sets of data have enough on their plates just handling the data. Dirk Reiners' goal is to help them with the visualization by creating software tools that make it easy to create interactive graphics applications -- the kinds of applications that are used in virtual reality projects. The tools are part of the OpenSG system initiated by Reiners and a couple of colleagues a few years ago. Reiners, one of Iowa State's new HCI faculty, came to the university from Technical University of Darmstadt, Germany.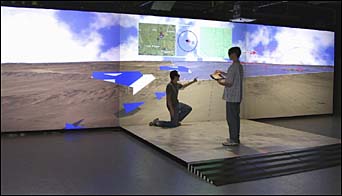 Image of the "battlespace" application running in a virtual environment.

Military projects
Virtual reality is a natural for military operations. It offers a safe way for soldiers to practice the mission and become familiar with the terrain. And it offers a promising way for military leaders, in the heat of battle, to handle the confusing mass of information pouring in -- the data could be integrated into the "virtual battlespace" in such a way that a military leader could reach for data and relay information with just a gesture. Such projects are under way at Iowa State. VRAC director James Bernard, associate directors Carolina Cruz-Neira and Adrian Sannier and faculty affiliate James Oliver are collaborating with the U.S. Air Force and Iowa National Guard on the research.

Making sense of the data
The traditional way of studying the ocean floor is to collect mountains of data on such geophysical attributes as temperature, seismic reflections, gravity, magnetics, and topography and look through them separately or use a system of overlapping colors and transparencies. Chris Harding's way is to put the data into a multi-sensory investigation system that allows the scientist to see data (3-D graphics), touch data (a 3-D mouse that conveys the feel of terrain, including bumps and grooves) and hear data (sounds convey secondary measurements, such as magnetics or slope). Harding, one of the new HCI faculty and an assistant professor of geological and atmospheric sciences, hopes to translate his multi-sensory approach to data to other areas (such as structural geology or meso-scale meteorology) under study by his departmental colleagues. He came to Iowa State from Shell Geoscience, Houston, Texas.

Survey assistance
During prime census-collecting times, millions of census takers hit the roads on behalf of the federal government with piles of paper maps, address lists, and census forms. Ideally, they'd have these resources packed into a small handheld device with GPS, drive straight to their destinations with nary a wrong turn, and collect 100 percent accurate data. Statistics professor Sarah Nusser is working with the U.S. Census Bureau and other agencies to study how mobile computing devices might help those conducting federal surveys. For example, a boon for map-challenged census takers might be a device that provides directions, via spoken command or text. Or perhaps a USDA surveyor collecting ag data might use a tablet to digitize field boundaries during an interview and automatically calculate the area of the field.

"Jeeves, is that you?"
When humans talk, face-to-face, there's a lot of communication occurring -- words, inflections, facial expressions, body language. When humans communicate through technology, such as a videophone, chat room, or e-mail, the level of interaction changes. And when humans talk to machines pretending to be humans (for example, Jeeves of "Ask Jeeves" fame or the cheerful, disembodied voice that enumerates your phone tree options), another dynamic is at work. The field of study is called "social presence," and Chad Harms, a new HCI faculty member, is one of its leaders. Harms came to the Greenlee School of Journalism and Communication from Michigan State.

City planning in historic Beijing
Brick by brick, building by building, Iowa State researchers and students and colleagues in Beijing, China, are building a digital version of the historic capital city of Beijing. The team, led by architecture professor Chiu-Shui Chan, is using satellite images, video, photos and drawings to create the virtual city and on a broader scale, a virtual reality tool for city planners everywhere. The goal of the project is to develop an interactive visualization tool to help planners manage urban growth, historians experience history, and designers explore planning codes.

Hindu temple
Whitney Sanford can't take the students in her religious studies classes to India to see a Hindu temple. But she can bring the temple to them. With the help of ISU experts in virtual reality, the associate professor in religious studies has created a stunning 3-D, interactive replica of a real temple, complete with worshippers and priests. The application can be shown on a low-cost, four-screen virtual reality system.




---

Ames, Iowa 50011, (515) 294-4111
Published by: University Relations, online@iastate.edu
Copyright © 1995-2003, Iowa State University. All rights reserved.