September 30, 2003
Transcript of speech and streaming video of convocation
Advancing excellence remains at top of Geoffroy's goals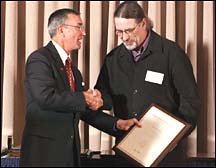 President Gregory Geoffroy (left) congratulates Charles Drewes on becoming a University Professor during the fall convocation ceremony.
Photo by Bob Elbert.

by Anne Krapfl
A continued focus on advancing the excellence at Iowa State, more efforts to foster diversity on campus and preparatory planning -- for the university's next strategic plan and a North Central accreditation review in spring 2006 -- are on the "to do" list President Gregory Geoffroy shared with the university community during the fall convocation Sept. 29.

Geoffroy said Iowa Staters need to work to advance excellence "on many fronts" but noted that faculty are the "heart and soul of a university" and so the best must be recruited and retained better at Iowa State.

Geoffroy said staff in the Provost Office are studying a task force report completed last May specifically on the recruitment and retention of women and minority faculty. The provost will lead the effort to follow through on some of the group's recommendations, he said.

Regarding the need for planning for Iowa State's future, Geoffroy posed four questions. How well they get answered over time will determine the success of the university, he said. They are:
How can the university best adjust to the fiscal realities? The situation he outlined included decreased state support with no clear indicators this trend will reverse, greater reliance on tuition dollars for operating funds and on private gifts for facilities, scholarships and faculty endowments.


How can the university best define its land-grant responsibilities for the coming years -- and sharpen its focus to ensure that those responsibilities are met? Geoffroy asked his audience to think about setting goals that reflect the realities and needs of Iowans and then put financial incentives in place that encourage units and individuals to make the decisions that meet those goals.


How can Iowa State provide the kind of student experience that will ensure attractiveness to (a shrinking pool of) students for generations to come? A review of the Honors program aimed at sustaining the strength of the Honors freshman year for four years, and plans to expand Iowa State programs in entrepreneurship, including an entrepreneurial learning community, are two examples Geoffroy offered.


How can Iowa State best convince the taxpayers of Iowa and our most important constituents to support the university at the level needed? Geoffroy announced a new strategy for advocating with legislators: a statewide alliance of 150 ISU alumni who are influential in their communities and have pledged to talk locally about the impact of shrinking state funding on Iowa State.

In addition to ongoing budget discussions about where to focus the university's resources and people's efforts, Geoffroy mentioned four other topics that soon-to-be-announced campus committees will look at this year. They are:
Issues related to continuing and distance education -- incentives to grow it where appropriate, funding sources, its structure at Iowa State
Alternative tuition structures, to complement a discussion happening at the regents level
The proliferation of institutes and centers at Iowa State, including a possible "sunset" procedure when a center has completed its stated mission
Small interdisciplinary and low enrollment courses and programs, and at what level the university should continue to support them.
At the conclusion of Geoffroy's convocation address, 55 members of the Iowa State community were recognized for the excellent work they have done for the university. Among the honorees were three new Distinguished professors, the highest honor the university bestows on faculty members:
Anson Marston Distinguished Professor in Engineering David Jiles, professor of materials science and engineering and professor of electrical and computer engineering
Mary B. Welch Distinguished Professor in Family and Consumer Sciences Mary Littrell, professor of apparel, educational studies and hospitality management
Distinguished Professor in Education John Schuh, professor of educational leadership and policy studies
A complete list of convocation award recipients is online at http://www.inside.iastate.edu/2003/0926/awards.shtml


---

Ames, Iowa 50011, (515) 294-4111
Published by: University Relations, online@iastate.edu
Copyright © 1995-2003, Iowa State University. All rights reserved.