October 10, 2003
Co-lab dedication is Oct. 18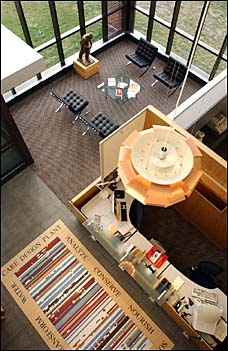 The third bronze casting of Christian Petersen's "Cornhusker" (near window) and Iowa artist David Dahlquist's floor mosaic depicting ways to illustrate a plant genome are part of the public art in the new co-lab. Photo by Bob Elbert.

by Teddi Barron
A new Iowa State building designed to advance plant biotechnology research and industry in Iowa will be dedicated three hours before the start of the Cyclone football game, Saturday, Oct. 18. The Roy J. Carver Co-Laboratory is the flagship building for the Plant Sciences Institute.

Dedication speakers include Stephen Howell, Plant Sciences Institute director; Gregory Geoffroy, ISU president; Owen Newlin, president, Board of Regents, State of Iowa; Ericka Havecker, graduate student in genetics; Dan Saftig, ISU Foundation president; and Troy Ross, Roy J. Carver Charitable Trust executive administrator. Building tours will follow the dedication.

The 45,000-square-foot building is the administrative home to the Plant Sciences Institute and houses the Innovations Development Facility (IDF), the Pioneer Hi-Bred International Genomics Laboratory, environmentally controlled plant-growth facilities and a proteomics laboratory. Proteomics is technology that allows scientists to analyze proteins that make up living cells. Four faculty members, their laboratories, staff and graduate students also are housed in the building. Three laboratories are available for new faculty.

The defining feature of the co-laboratory is the Innovations Development Facility. It will promote business development from university research, and bring together scientists from the university and industry.

The IDF has two components: a business incubator, to facilitate creation of plant biotech companies, and a public/private partnership program. Faculty and students interested in developing commercial applications for their research have access to labs, office space, scientific instruments, financial resources and business advising.

The partnership program will encourage scientists from established Iowa businesses to conduct collaborative research on site with Iowa State scientists and equipment.

The $17 million building was named for Roy J. Carver, an Iowa industrialist and philanthropist. The Roy J. Carver Charitable Trust, a private foundation in Muscatine, gave the $3 million lead gift.

The faculty tenants in the co-laboratory are:
Howell, professor of genetics, development and cell biology, and director of the Plant Sciences Institute. He investigates how gene "expression" is regulated during developmental events in plants, such as plant shoot and plant root development.


Patrick Schnable, professor of agronomy and of genetics, development and cell biology, and director of the Center for Plant Genomics. Schnable has received National Science Foundation funding of more than $8 million to map and analyze the corn genome. His work will give corn breeders a road map to the gene responsible for the traits they want to optimize or minimize.


Dan Voytas, professor of genetics, development and cell biology. Voytas is developing new ways to introduce genes into plants and to modify plant genes.


Edward Yeung, Distinguished professor in liberal arts and sciences and professor of chemistry. Many of the technologies he develops are important to genomics and proteomics research. He has three laser laboratories in the building.
---

Ames, Iowa 50011, (515) 294-4111
Published by: University Relations, online@iastate.edu
Copyright © 1995-2003, Iowa State University. All rights reserved.