October 10, 2003
Exec chef oversees what's cooking around campus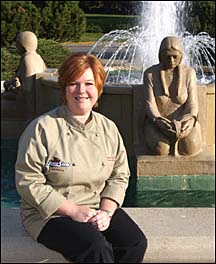 Executive chef Karla Boetel develops menus and recipes for the many components of ISU Dining, including the student dining centers, catering operation, vending, and campus cafes and stores. Photo by Bob Elbert.

by Anne Krapfl
She's sure her refrigerator contains the same kinds of cartons and bottles as yours and mine, and yes, she eats her share of cold cereal for "dinner."

But by day, Karla Boetel wears the title of executive chef, the first for the relatively young ISU Dining Services.

The focus of her work is "product development" -- developing menus and recipes for the many components of ISU Dining, including the student dining centers, a large catering operation, vending and the numerous cafes and stores that make up the retail division. Every campus location has its own needs, depending on the audience served and the kitchen equipment available, so uniformity is not the goal. However, uniformity of quality is. Coming up with menus and recipes is half her job; training employees in how to prepare them is the other half.

For example, an item like lasagna probably won't disappear from ISU Dining's menu. However, Boetel makes sure it's an upgraded, more appealing lasagna. And she'll make sure all the kitchen staffs are trained in the right cooking methods to prepare the new lasagna.

"My job basically is to work with the managers and the cooks to make sure each operation is a success," Boetel summarized.

Executive chefs for years have run upscale restaurants and hotel dining rooms. Boetel said the people in those jobs are responsible for food costs, labor costs and a whole lot of paperwork.

"Some never see the stove. They have staffs for that," she explained.

Two of Boetel's classmates at the Culinary Institute of America (CIA), Hyde Park, New York, also found positions at universities. Other classmates have jobs in swanky restaurants, or as corporate chefs or research and development chefs for large food companies.

"We (three) absolutely love it," she said, citing the variety of work in the job. "I'm in a kitchen somewhere on campus four times a week."

Executive chefs on university campuses are new in the last decade or so, but becoming increasingly common. Like academic programs, university food service programs have competitive tiers. Top-tier food service programs are at places like Notre Dame, Ohio State and Washington State.

And Iowa State isn't far behind.

"We're looked upon as one of the big ones in university food service," Boetel said. "That was a nice surprise for me."

ISU Dining director Jon Lewis, who proposed and filled the executive chef position, said Iowa State needs to stay competitive.

"The focus in campus food services used to be on management and, to some degree, nutrition," Lewis said. "For several years now, the large, private schools have focused on providing a culinary experience. We network and learn from each other, and that's the direction the rest of us are headed.

"We hope we can achieve a nice marriage of nutrition and customer demand. It's really about offering choices."


From engineering to exquisite
Boetel's first attempt to land at Iowa State was in the fall of 1991. After graduating from Lincoln High School on Des Moines' south side, she applied and was accepted into the Engineering college.

"I enjoyed math and science, and I was good at it," she said.

But she also was a young woman who loved baking and cooking with her mom and grandma. As an elementary student, she preferred hanging out -- and helping out -- in her grandma's kitchen, to playing outside.

"So, at the last minute, I changed my mind about engineering and went with my passion," she said.

A year later she enrolled in the culinary arts program at the Des Moines Area Community College and received her associate degree in 1995. She stayed on at DMACC as an instructor for four years and also helped open and served as executive chef for The Wine Experience, a Des Moines restaurant.

In the fall of 1998, she heard about a baking contest that pulled her out of central Iowa, at least for a while. She entered the first annual "All-American Apple Pie Contest" sponsored by the CIA and was one of 10 people selected nationally to travel to Hyde Park to prepare her pie for the judges. Her third-place effort garnered a $10,000 scholarship in the institute's bachelor degree program. (CIA also offers an associate degree.) The next fall, she was back in Hyde Park and back in school. She completed the 38-month program and graduated with honors last November.


'60s to state of the art
At Iowa State, she joins two other CIA alums, Tearoom coordinator Freeman Moser and ISU Dining's sous chef Everett Phillips.

And she joins the process of moving campus dining from "a 1960s concept to state of the art."

As with many aspects of 21st century living, people are more sophisticated about food, Boetel said.

"Our palettes are more sophisticated, and TV food shows and the Internet give us so many options to learn about food," she explained.

Some trends in university dining are vegetarian options and the marketplace atmosphere -- multiple meal options in a single location, as exemplified in the new Union Drive community center and, on a smaller scale, the Frederiksen Court community center.

Lewis said campus catering offers a prime example of how food expectations have changed. "Fifteen years ago, when you dedicated a building, tea cookies and punch were good enough. Today, you have to provide a five-star catered spread to please clients and guests," he said.

Partly because of the high demand on the catering division, Boetel's home base for now is with that staff. The merger of residence department catering and Memorial Union catering last winter also created the huge task of standardizing menus and catering functions for the Union, Scheman Building and client's site events.

Some might see all that fussy, detail work as, well, just a lot of work. Boetel said it's an exciting time to be involved in ISU Dining's evolution.

"When you love it, you love it. And I get to do what I love for a living," she said. "I'm lucky."




---

Ames, Iowa 50011, (515) 294-4111
Published by: University Relations, online@iastate.edu
Copyright © 1995-2003, Iowa State University. All rights reserved.