September 26, 2003
Praise for the planet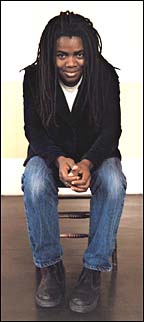 Tracy Chapman

The mission is simple: To redefine "cool." We The Planet (WTP), a national tour dedicated to sustainability, will cultivate that message with Iowa Staters when the tour appears at Stephens Auditorium at 8 p.m. Sunday, Sept. 28.

Musician Tracy Chapman, activist and author Julia Butterfly Hill and sustainable agriculture activist Howard Lyman will lead a discussion on the most pressing environmental issues facing the planet, the nation and its communities. Following the discussion, Chapman will perform a short acoustic set.

The stage discussions will cover global issues directly related to local communities and emphasize how attendees can improve the world. As an example, the tour group is traveling across the United States in a bus powered entirely by vegetable oil and bio diesel.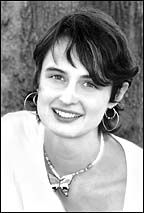 Julia Hill

Hill is WTP's founder, but perhaps best known for spending more than two years in a California redwood tree in the late 1990s to protest the destruction of the state's redwoods. Since then, she has written books, lectured at universities and lobbied Congress on a variety of environmental issues.

Joining Hill and Chapman will be Lyman, a fourth-generation Montana farmer. He also is founder of Voice for a Viable Future, a nonprofit educational organization promoting organic family farming, biodiversity, vegetarianism, environmentally friendly practices and enlightened trade.

Women's Week 2003 and the Committee on Lectures welcome local groups to distribute information in the lobby during the event.

Following is a list of Women's Week events:

Women's Week 2003
Sept. 28-Oct. 10
4-9934, free

Sunday, September 28
8 p.m., Activism, discussion and music, "We The Planet," activists Tracy Chapman, musician; Julia Butterfly Hill, author; and Howard Lyman, farmer, Stephens Auditorium.
Monday, September 29
7:30 p.m., Lecture, "Bridging the Person and Political: A Global Perspective," Adrien Wing, University of Iowa, Sun Room, MU.
Tuesday, September 30
7 p.m., Lecture, "No! Addressing Rape and Sexual Assault in the African American Community," Aishah Shahidah Simmons, Afro Lez Productions, Sun Room, MU.
Wednesday, October 1
7:30 p.m., Lecture, "Madam President: Shattering the Last Glass Ceiling/2004 Campaign Preview," Eleanor Clift, Mary Louise Smith Chair and Newsweek contributing editor, Sun Room, MU (see story).
Thursday, October 2
7 p.m., Lecture, "Media Images/Lived Realities: Women in the Middle East," Susan Schaefer Davis, visiting professor, Al Akhawayn University, Morocco, Sun Room, MU.
Friday, October 10
Lecture, "Why Family and Work Conflict and What We Can Do About It," Joan Williams, American University Law School, Washington, D.C., Pioneer Room, MU.
---

Ames, Iowa 50011, (515) 294-4111
Published by: University Relations, online@iastate.edu
Copyright © 1995-2003, Iowa State University. All rights reserved.