September 26, 2003
Farce features monks in trouble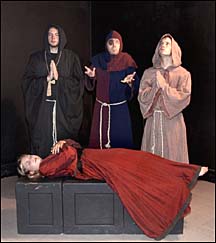 ISU Theatre will present the medieval comic farce Incorruptible during October.

Dem bones, dem bones, dem.

Tibias and fibulas are just part of the attraction when ISU Theatre brings Incorruptible to the Fisher Theater stage beginning Friday, Oct. 3, at 7:30 p.m.

The medieval comic farce focuses on a group of desperate French monks in 13th-century France whose incomes are dwindling. Pilgrims and other followers no longer visit since the bones of the monastery's patron saint, St. Foy, quit emitting their healing powers. To add insult to injury, a rival monastery now brags that it possesses St. Foy relics that do, indeed, work miracles.

Comedy ensues when a one-eyed minstrel shows up and offers a plan to the hopeless monks that could save their monastery from financial ruin. Incorruptible runs at 7:30 p.m. Oct. 3, 4 and 10, and 2 p.m. Oct. 12. Tickets, available at the Iowa State Center ticket office, are $11 for adults, $10 for seniors and $5.50 for students and children.




---

Ames, Iowa 50011, (515) 294-4111
Published by: University Relations, online@iastate.edu
Copyright © 1995-2003, Iowa State University. All rights reserved.