September 26, 2003
Truly, he's not anti-Wal-Mart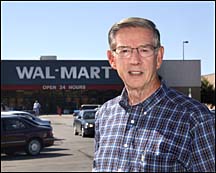 Extension economist Ken Stone is the national guru on Wal-Mart retail operations. Photo by Bob Elbert.

by Debra Gibson
Forget the furor over Ben and Jen's future. The big question burning in America's minds: Does Ken Stone shop at Wal-Mart?

"Actually, I shop all the time at Wal-Mart," said ISU's professor of economics and national guru on all things associated with Sam Walton's brainchild. Or more important, with all things pertaining to how The Big Box can wreak havoc on Main Street USA.

For more than 20 years, Stone has advised retail communities across the country (and eventually around the world) on how to survive the Wal-Mart stores that come to town. He has watched Mom and Pop shops drop faster than the chain's "always lowest prices" when competition becomes insurmountable. Iowa State alumni have pleaded with the institution to "call off" Stone's research when their own vested interests were at stake.

And this guy still shops there?

"Well, it's a one-mile walk from my house, and I can't claim to be an expert unless I know a lot about Wal-Mart," Stone explained during a recent interview. "I spend a lot of time walking up and down those aisles, checking out their prices. But as far as what I actually buy? Just a very few necessities."


Data massage
Since Stone began dissecting Iowa sales tax data nearly 30 years ago as a new ISU extension economist, he has provided more than the bare necessities to thousands of hometown retailers.

Shortly after joining the university faculty after stints as an agricultural engineer and an Army pilot pulling two Vietnam tours, the Illinois native became fascinated with "this gold mine of information that no one was doing anything with."

By massaging this sales tax data, Stone could determine how a community's sales in areas such as food, general merchandise and apparel compared to average sales for towns of comparable size.

"This research helps communities find their 'leakages,'" Stone said. "The numbers provide the impetus to get them going, and to help show them the right areas from which to be recruiting new businesses."

When Stone first began preparing these analyses in the late 1970s, the reports were prepared by hand, taking two weeks to complete. Today, every Iowa community with a population of more than 500 can access this data online. Over time, many other states have adopted Stone's methodology to create their own economic reports.

This connection to Iowa retail operations led Stone to begin studying shopping malls and their effects on Main Street economics, a project which led to media appearances. By the early 1980s, Iowa Chambers of Commerce were contacting Stone on a regular basis, all with the same question: What can you tell us about Wal-Mart?


The "go-to" guy
Helping these communities deal with the arrival of Wal-Mart led to Stone's 1988 report on the chain's impact on local retail, the first such report in the country, as well as a set of action points on how to compete in this arena. Within weeks, Stone was featured in major metropolitan newspapers, which led to more calls for help. By 1993, he was conducting 60 to 70 retail seminars each year, and was profiled in The New York Times.

"That really opened the floodgates," Stone remembered with a laugh. "I had agents calling, wanting to manage my career, and all kinds of publishers wanting me to write books." (Indeed, Stone's book, Competing with the Retail Giants, was published by John Wiley and Sons in 1995.)

Soon after, the Canadian Broadcasting Co. produced a documentary that included Stone's research, which expanded his demand to the North. To date, he has consulted in every state in the United States, every Canadian province but one, Australia, New Zealand, China, Mexico, Puerto Rico and Brazil.

But at times, it wasn't only the shop owners who incurred the costs. Stone openly admits that other professors dismissed his research as too mainstream and without prestige.

"In the early years especially, many academics looked askance at my work," Stone said. "For them, research should only appear in academic journals, and even then, the quality of the journals was what really mattered. But I believed that as an extension economist, I had to communicate with lay people and distill economics in ways they could understand. The best way to do that was through the media -- that was the most economical and efficient way of disseminating the information.

"But many academics have said recently that I was prescient in my research on Wal-Mart, that I was the first to see at that time how Wal-Mart was going to take over the world. I'm amazed at the number of graduate students and academics now studying all this today -- I feel somewhat vindicated."


Stone's message
And, once again, in demand. With the surge of Wal-Mart Supercenters ("complete with full-blown grocery stores") now springing up across the nation, Stone finds himself recruited to counsel a new flock of community retailers. Stone said his research, conducted in Texas, Mississippi and Iowa, most likely is the only research in the country that studies the impact of the supercenters. And his advice to this new wave of retailers is quite similar to their counterparts a decade or two ago.

"This isn't the end of the world for these communities," Stone counseled. "Wal-Mart does keep more people at home to shop, and it brings in people from a greater distance. Other retailers just can't go head to head with them selling the same thing -- they have to reposition themselves, and find their own niches. For instance, if your store sells bikes, you can't go up against their low-end, $38 bikes. But if your shop upgrades to more premium bicycles and offers repairs and services, you've got something Wal-Mart can't provide. I tell these merchants all the time to shop Wal-Mart stores and find their voids, find out whatever they can."

So what exactly does Wal-Mart think of this advice?

"Well, in the beginning, I got lots of calls from Sam Walton's son, Rob, who was the corporate attorney," Stone said. "They really thought I was out to get them, but I was only collecting and reporting the facts. Several years ago, an ISU textiles and clothing class was touring Wal-Mart's Bentonville, Arkansas, plant and [the late] Sam Walton walked by. When he heard the students were from Iowa State, he said, 'I know Iowa State. That's where the professor's at that's giving me all this trouble!'"

But when a Wal-Mart manager covertly taped one of Stone's seminars and company officials realized Stone wasn't mounting a campaign against the company, the Big Box left him alone.

"And let's face it," Stone concluded. "There are so many rabid Wal-Mart haters now, I don't even show up on the radar screen."




---

Ames, Iowa 50011, (515) 294-4111
Published by: University Relations, online@iastate.edu
Copyright © 1995-2003, Iowa State University. All rights reserved.