September 12, 2003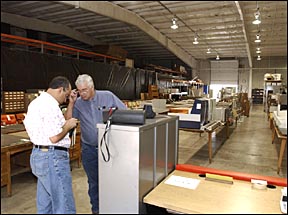 Sure, we have that
Ashraf Bastawros (left) and Tom Elliott, aerospace engineering, check out photo gear at the Tuesday ISU Surplus Sale. ISU Surplus also runs its Wednesday public sale from its new home at the former Ames/ISU ice arena. Photo by Bob Elbert.
---

Ames, Iowa 50011, (515) 294-4111
Published by: University Relations, online@iastate.edu
Copyright © 1995-2003, Iowa State University. All rights reserved.