September 12, 2003
Hamilton Hall renovation worth the wait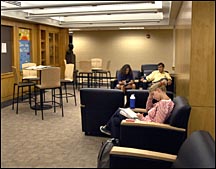 A much-needed feature in the renovated Hamilton Hall is a student study/commons area (pictured above), constructed in space created by removing the photography darkroom and moving the former south entrance to the west side of the building (below). Photos by Adam Patridge.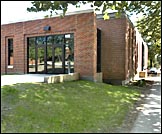 by Dave Gieseke, LAS Communications Office
With just $2 million to spend on renovations to Hamilton Hall, the faculty of the Greenlee School of Journalism and Communication were hopeful there would be enough to fix some exterior features and update some of the student areas.

Joel Geske, associate professor and associate director in the Greenlee School, recalled that when the initial bids came in, faculty had their fingers crossed. Maybe that helped.

"The bids came in about 10 to 15 percent under budget," Geske said.

So much under budget, that additional plans were made.

The oldest part of Hamilton Hall dates to 1940, but three additions have created lots of unpredictable corners, stairwells and level changes. Adding to the challenges of the building was a large increase in enrollment over the last five years. The Greenlee School currently has more than 1,100 students.

"The building was so overcrowded, we would have students sitting in hallways," Geske said.

"Additional" space was created by removing a photo darkroom made obsolete by digital photography, and removing the south entrance to the building and replacing it with a west foyer and entrance addition. The school also picked up the space vacated by the International Studies Office when it moved to the Memorial Union last year. Other components in the renovation involved space swaps.

The main administrative offices were remodeled. Existing faculty offices got a makeover and more were added -- where the journalism library once was -- for the fast-growing academic department. In fact, the whole east wing of the building was renovated for faculty and administrative offices, Geske said.

The new Hamilton Hall also includes:
A relocated reading room equipped with electronic resources for undergraduate and graduate students.
Commons area where students can work on group projects and meet, and guest professionals can hold public forums.
Three updated classrooms. The number of classrooms in Hamilton Hall hasn't changed, but all are equipped with computer and video instructional media.
Better traffic flow, particularly on the main (first) floor.
A renovated academic advising center.
To save money, the faculty opted to complete the renovations in a year, instead of a three-phase plan over three years.

During the year, faculty doubled up in the remaining offices. Only one classroom was available in the building.

"It was tight quarters but we managed," Geske said. "In the end, I think we have a building that can serve as a good home for the students of the Greenlee School."




---

Ames, Iowa 50011, (515) 294-4111
Published by: University Relations, online@iastate.edu
Copyright © 1995-2003, Iowa State University. All rights reserved.