August 29, 2003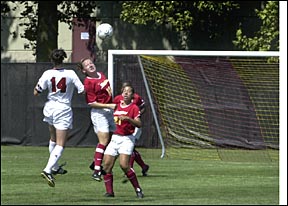 Home opener Sept. 7
The Cyclone soccer team plays its '03 home opener against the Blue Demons of DePaul University at 1 p.m. Sunday, Sept. 7. Coach Rebecca Hornbacher returns for a second season, after serving as interim head coach during the '02 tour and being named to the post permanently in January. A year ago, the Cyclones finished 7-11-1, with a 4-6 mark in Big 12 play. Home matches are played at the soccer complex east of the Lied Center. Tickets are $6 for adults, $4 for students. File photo.
---

Ames, Iowa 50011, (515) 294-4111
Published by: University Relations, online@iastate.edu
Copyright © 1995-2003, Iowa State University. All rights reserved.