August 29, 2003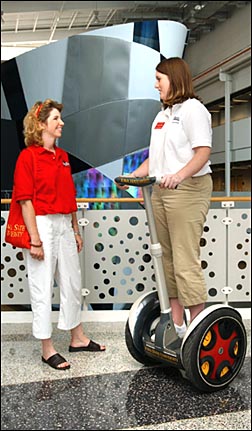 No hitchhikers allowed
Rebecca Black (right), senior in computer engineering, demonstrates the College of Engineering's new Segway Human Transporter to Camille Sloan-Schroeder, administrative specialist in the Engineering undergraduate program. The college will use the Segway for campus tours and other special activities. Assistant dean Loren Zachary says the Segway "is a concept filled with engineering gems that we can use to tout the field." Photo by Bob Elbert.
---

Ames, Iowa 50011, (515) 294-4111
Published by: University Relations, online@iastate.edu
Copyright © 1995-2003, Iowa State University. All rights reserved.