August 29, 2003
Printing's Web-based service offers faster option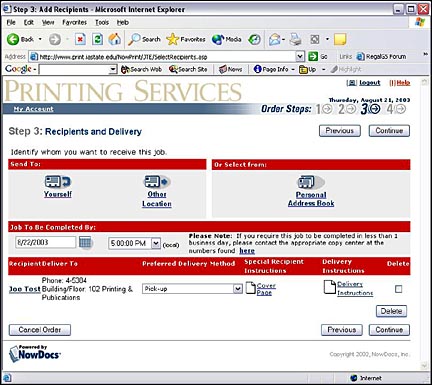 Via the Web, copy center customers can submit and preview documents, make paper and binding choices and choose payment and delivery options. ISU Printing Services recently purchased software that makes it all possible. The screen above shows part of the four-step process.



by Anne Krapfl
ISU Printing Services has introduced a Web-based service that lets customers submit and preview documents, make paper and binding choices and choose payment and delivery options for copy center-type printing jobs.

The "NowPrint" software is featured prominently, including a link to get started, on the Printing Services Web site,
http://www.print.
iastate.edu.

NowPrint currently accepts PDF documents and Microsoft Office formats: Word, Excel, PowerPoint and Publisher. The cost is the same as current copy center prices; the difference is a faster turn-around time. Faculty, staff and students may submit jobs 24 hours a day.

"We wanted to be online with an interactive job submittal software," said Rob Louden, manager of computer publishing for Printing Services "We looked at lots of products." Among the favorable traits of NowPrint, Louden said, are that it operates on the Printing Services server, not the software company's server, and it is fairly simple to use. A five-minute tutorial is available to first-time users.

NowPrint offers black and white or color options, and letter, legal and tabloid paper sizes. Copy centers currently equipped with NowPrint are in the Printing Services building and Memorial Union. When it opens, the new copy center in the Union Drive community center also will offer the service.

Once a user has set up a billing account, NowPrint involves four steps:
Upload files to NowPrint on the Printing Services server and, within seconds, approve page previews.
Select paper, volume and binding options.
Select desired delivery time and location (or pick-up).
Select a payment option.
During the process, the client will receive three e-mails to confirm the progress of a job request: when the order is placed, when a copy center employee starts the job and when the order is complete.

For more information, contact Louden, 4-5374, or James Barnd, 4-7728.




---

Ames, Iowa 50011, (515) 294-4111
Published by: University Relations, online@iastate.edu
Copyright © 1995-2003, Iowa State University. All rights reserved.