August 29, 2003
Move-in crew volunteers have the right stuff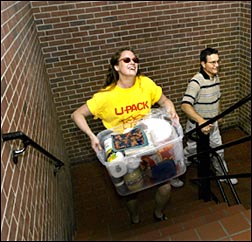 Library assistant Tami Ryan gets a workout helping students move into residence halls at Union Drive. Photo by Adam Patridge.

by Annette Hacker
"That's all you need in life, a little place for your stuff.

"That's all your house is: a place to keep your stuff. If you didn't have so much stuff, you wouldn't need a house. You could just walk around all the time. A house is just a pile of stuff with a cover on it. You can see that when you're taking off in an airplane. You look down, you see everybody's got a little pile of stuff."
-- Comedian George Carlin

Every August, the Iowa State campus comes to life as eager freshmen arrive and savvy sophomores, juniors and seniors return to Ames. They bring with them an almost indescribable energy from great expectations of what the school year will hold -- new knowledge, new friends and endless possibilities.

That's not all they bring.

"People bring unbelievable amounts of stuff," said Patricia Dailey, an Iowa State sophomore double-majoring in chemistry and English. "Some people move in with two bags, and others will come with two trailers and a van. Freshmen especially tend to overpack."

Dailey, president of Harwood House in Lyon Hall, should know. She was one of 300 returning students and a handful of Iowa State faculty and staff members who helped move more than 6,000 students into residence halls Aug. 20-22. Wearing shocking yellow T-shirts emblazoned with "U-Pack -- We Haul," the department of residence's "move-in crew" volunteers were impossible to miss in the Union Drive, Richardson Court and Towers neighborhoods.

It marked the first time Iowa State has launched a formal program to help students -- especially those new to campus -- move in, said Larch Hall director Susan Lammers, who led the effort. Lammers and fellow hall directors Suzanne Harle (Helser), Bobbie Delaney (Knapp) and Kim Everett (Oak-Elm), worked throughout the year to assemble the first move-in crew. They met with students to assess needs, and contacted other universities to learn best practices in moving. Their goals were to lessen traffic congestion, answer questions, alleviate stress and provide a warmer welcome to Iowa State.

"This is an opportunity for students to provide a service and for us to improve the move-in process," Lammers said. "And, it's a nice way for faculty and staff to connect with students outside their regular roles."

Volunteers braved the hottest days of the year to unpack cars, trucks, vans and horse trailers filled with stuff. Important stuff.

Over a noon hour at Oak-Elm halls, the move-in crew helped students and their families carry chunks of plywood, a bed frame, carpet rolls and an enormous papasan chair (perfect for curling up with your favorite textbook). They toted television sets and lugged a futon mattress to the fourth floor. Then came clothes in baskets, boxes and bags. There were the obligatory microwaves, refrigerators and computer towers. One freshman with a shy smile brought what must have been her entire collection of Disney videos. Some students wandered about with late-model electronics -- sleek speakers here, a tiny red boom box there -- while another young man juggled two large, faux wood-grain, '80s-era speakers.

For what is college life without tunes?

Mothers looking to supplement the plethora of ISU Dining options brought beef jerky, goldfish crackers, a triple-pack of Lucky Charms, Trix and Cocoa Puffs and some imported Italian breadsticks, just for good measure. Beware the dreaded "freshman 15."

Dads studied loft plans and hovered with tool boxes, keeping busy.

"Do you know anything about lofts?" Pam Willey of Dubuque asked. "Are these things standard? Can you put a desk underneath it?" Her daughter, freshman Allison Brimeyer, looked at dad Tom Brimeyer.

"I'll have it put together faster than a Nascar pit crew," he promised.

And so the rite of passage went for three days.

"So many people are so thankful," said Andrea Kula, a sophomore business major who helped with the move. "It's a lot of fun, but for some reason, time goes slowly. Maybe it's the heat."

Tigon Harmison, a sophomore horticulture major, greeted cars as they entered Old RCA.

"Being from Ames, I kind of knew what I was doing last year," she said. "But it's still really helpful to have somebody around."

Students willingly worked nine-hour shifts in exchange for thanks, cookies and ice water. Faculty and staff worked around their schedules to help for three or four hours at a time.

Lammers, who will receive her master's degree in counselor education in December, hopes the program will grow and become a tradition for students, faculty and staff.

"When we've arrived, it will be something students talk about," she said. "That will be fabulous."

The move-in crew's mission is more than carrying boxes, Lammers added. It's to make people feel at home.

"I'm humbled by the sight of third generations coming to Iowa State," she said. "It makes me feel privileged to be a hall director. Parents want everything to be right for their students before they leave. They want to unpack the luggage, arrange the sock drawer, make the bed. They want to believe that this is a good place their son or daughter has chosen."




---

Ames, Iowa 50011, (515) 294-4111
Published by: University Relations, online@iastate.edu
Copyright © 1995-2003, Iowa State University. All rights reserved.