A center for the community
The hub of the Union Drive residence neighborhood, a multi-function community center, is nearly complete.

Food purchase options include a convenience store with deli and Clyde's non-alcohol sports restaurant on the lower level, and the Marketplace, a multi-station, all-you-care-to-eat facility on the second floor with seating for 815.

The building also has an ISU document center, fitness room, multi-purpose room, several private dining rooms and the post office for the Union Drive neighborhood.

Clyde's and the convenience store open Aug. 18; the Marketplace begins serving Aug. 22.

Dining payment options for faculty and staff include cash, Cy Cash (added on your ISU Card) and a dining charge account (credits deducted from your paycheck).

The community center will be dedicated during a Sept. 5 open house. A short program begins at 3 p.m.; tours and refreshments will follow at approximately 3:30 p.m.





Counter chairs created by Sticks Inc.,
Des Moines






Chair backs at Clyde's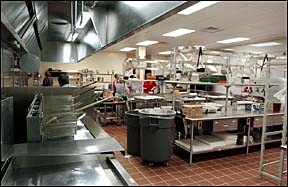 "Back of the house" kitchen, which services the
various Marketplace stations.
Photos by Bob Elbert and Adam Patridge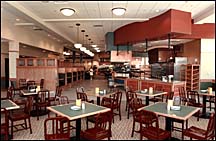 The Marketplace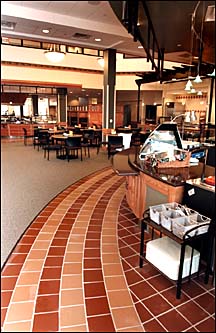 The Marketplace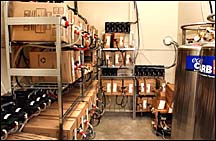 State-of-the-art syrup and carbonation room in lower level services the building's soda fountains.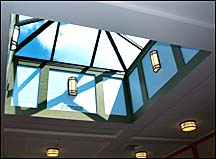 Skylight above the main staircase. The center's interior is finished in the arts and crafts style.