Aug. 15, 2003
Lagomarcino courtyard again will have a mural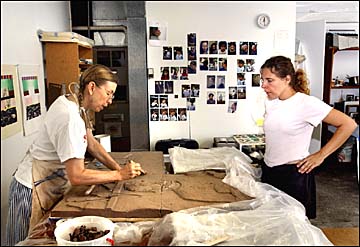 Ingrid Lilligren (left) and Jennifer Clark discuss details on
a new mural for the Lagomarcino courtyard. Photo by Bob Elbert.

by Debra Gibson
In a steamy former garage tucked off a downtown Ames alley sits six tons of clay and a tribute to the College of Education.

This makeshift studio houses what eventually will be a 24-foot-long exterior mural for the west side of the Lagomarcino Hall courtyard. Sculpted by Ingrid Lilligren, associate professor of art and design, the mural will replace the Christian Petersen veterinary medicine mural that was reinstalled at the Vet Med complex. The new mural was commissioned by the College of Education and University Museums as part of the art on campus program.

Lilligren's low-relief sculpture (the design protrudes from the clay's surface), is based on a design by Gail Kristensen, a former student of the late Christian Petersen. Kristensen's health prevented her from completing the mural and Lilligren was asked to step in.

Using six tons of custom-blended clay, Lilligren, a ceramic artist, began work on the mural in late June, assisted by College of Design lecturer Jennifer Clark and design students Jill Benedict, Tammy Kopecky and Andrea Hovan. In the first step, the design's details were transferred from paper onto the clay.

Although in Kristensen's initial design, the many figures float throughout one large design, Lilligren chose to use the same method as Christian Petersen, cutting the clay into 48 blocks, each containing a part of the scene.

The rest of the summer, Lilligren has been refining the details on individual blocks, with about 25 percent of them completed to date. Once all blocks are ready to be cast, she will make molds from a rubber substance, and then press the clay into the molds. When the clay is removed from the molds, the designs will be allowed to dry slowly and then be fired even more slowly. A masonry crew will install the completed sculpture, which will stand more than 6 feet high, in the Lagomarcino courtyard next summer.

"This has been a fabulous opportunity for me to both learn and contribute something to the university," Lilligren said, "something that will be around much longer than I will."




---

Ames, Iowa 50011, (515) 294-4111
Published by: University Relations, online@iastate.edu
Copyright © 1995-2003, Iowa State University. All rights reserved.