Aug. 15, 2003
Kane likes big-picture approach for council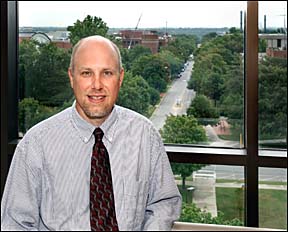 A broader perspective of university life is one of Kevin Kanes goals for the P&S Council. Photo by Bob Elbert.

by Anne Krapfl
The incoming president of the Professional and Scientific Council holds a P&S post as director of Iowa State's GIS (Geographic Information Systems) facility. He also has an adjunct faculty position in the landscape architecture department and is a doctoral student in education leadership and policy studies.

Perhaps it's not surprising, then, that one of Kevin Kane's goals this year is to encourage the council to broaden its perspective about what needs its attention on campus. He noted that the council has spent a lot of time and effort in recent years studying P&S compensation issues. One positive result is that an administrative team has committed to addressing some of those issues this year.

"The broad picture is important to me," Kane said, "and I think you start seeing some solutions when you view something from all angles. One perspective is harder to work with.

"I would like council to be looked upon as a leadership group on campus. To do that, we need to do more than study our own compensation issues," he continued. "I'd like us to be involved in more university-wide issues, like the decision about the academic calendar, diversity discussions, broader things that affect our university culture."

One way Kane will encourage that wider perspective is through council discussion -- sort of book club format -- of Henry Rosovsky's book, The University: An Owner's Manual. While the book largely is about the author's experiences as a dean at Harvard University, Kane said the topics he writes about -- promotion and tenure, graduate students, a dean's life, faculty searches, research versus teaching, admissions standards and processes -- are relevant and informative, especially for non-faculty readers. Part of the council's annual budget will pay for copies of the book for council members; discussion will occur during optional lunch-and-learn sessions.


Spread the word
Communication also remains high on the council's list of priorities, where it has been for several years. At their July 25 planning retreat, Kane said council members talked about ways to tell the campus community, including P&S constituents, what the council does, and what the diverse P&S employee classification is all about. Ideas include a fact sheet on council accomplishments over the last five years, and a Power Point presentation that council officers would present to university audiences on and off campus.

"Part of our message needs to be that it's a great time to serve on the council," Kane said. "President Geoffroy asks for our input on a lot of issues. He has opened the door for us; we can choose to go through or not."


Accentuate the positive
"It's easy to always be looking at what's not there," Kane said. "As a council this year, we'd like to celebrate the positives, not just dwell on the negatives."

The council will launch the "Cytation Award" this fall, a quarterly award that recognizes exceptional work done by P&S employees within the last year (see adjoining story). The award is intended to highlight good efforts that don't meet the criteria for some of the larger, annual P&S employee awards.

Kane also said council members will be available to assist with a list of compensation-related issues. After several months of council study that led to a handful of recommendations to university administrators last spring, vice president for business and finance Warren Madden proposed a list of P&S items for review this year. They include items such as salary increases following reclassifications that are higher than the current 5 percent minimum, a policy for salary movement to midpoint in a pay range, a formal career "progression" system for certain job series, and the option of reviewing (and changing) salaries of new employees within the first 12 or 18 months on the job, among others.

"We understand the budget constraints the university is under, so we won't be trying to push boulders uphill," Kane said. "But since a lot of these ideas came from council, I think the expectation is that we'll help with the work.

"We'd like to work with human resources, with the Provost Office, to try to prioritize and implement some of them."

Kane said other council goals this year include:
Encouraging council members to use their terms as professional development experiences, especially in leadership opportunities on committees or as council officers.
Investigating the likelihood of moving the student recruitment and retention grant program ($30,000) and the P&S tuition grant program ($125,000-plus) from annual renewal to permanent funding status.
The council's first meeting of the academic year begins at 2 p.m. Thursday, Sept. 4, in the Memorial Union Pioneer Room.




---

Ames, Iowa 50011, (515) 294-4111
Published by: University Relations, online@iastate.edu
Copyright © 1995-2003, Iowa State University. All rights reserved.