Aug. 15, 2003
Juggler of projects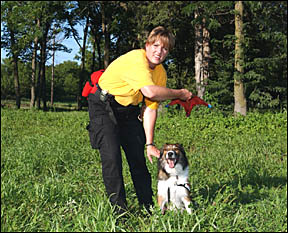 Robin Habeger and her border collie, Talyn, practice search skills. Photo by Bob Elbert.

by Kevin Brown
Robin Habeger is a projects person. Professionally and personally, when one project ends, she seeks another. She looks for activities that are challenging -- mentally and physically -- where she can use her creativity and problem-solving skills.

This explains some of the West Bend native's hobbies: training and handling a search and rescue dog, and attaining black belt status in tae kwon do. It also helps explain how she became director of the Business and Partnership Development Program (BPDP) in the College of Business.

"I became active with STAR 1 Search and Rescue, based in Story County, shortly after I completed my MBA at Iowa State," Habeger said. "It was my new project.

"When I learned about this new position at the college, I immediately was attracted by the potential of this program for both the growth of Iowa businesses and of the college," Habeger said. "I have studied under many of the faculty members and I understand what they can offer to the Iowa business community."

Capitalizing on the expertise of College of Business faculty, the BPDP provides personalized assistance, seminars and training to Iowa businesses.

Habeger currently is working with account managers in the Iowa Manufacturing Extension Partnership (IMEP) to promote the college's expertise and professional services to IMEP members. IMEP provides technical and business assistance to two-thirds of Iowa's small and mid-sized manufacturers.


Executives program
Habeger also works closely with the Iowa Small Business Development Centers (SBDC) -- itself an outreach program of the college. On the job since May 1, Habeger has been meeting with the Iowa Central Community College office of the SBDC. The team is in the early stages of creating an executive education seminar based in Fort Dodge for businesspeople in early 2004.

"The executive education seminar is a condensed version of the MBA curriculum tailored to meet the needs expressed by executives in the Fort Dodge area," Habeger said. "These continuing education courses focus on topics such as marketing, process or succession planning -- who will lead the company in the future. Courses also will respond to issues the local business leaders identify. Adaptability is the key."

Habeger also connects companies that need feasibility studies with College of Business experts. A feasibility study is a fairly standard requirement of companies applying for guaranteed government loans, she said.

For example, to successfully complete a study for the USDA, a firm "would potentially have to hire different consultants in five areas. These include areas such as economic development impact, management structure and capabilities, marketing plan development and appropriate-ness, accounting and finance practices, and technical information, which includes identifying the supply-chain management style used by the firm," Habeger said.

"The College of Business can offer all of these services, coordinated by one person, to help reduce costs, increase efficiencies and improve the turn-around time for the firm."

Another pending project involves helping a small, family-owned company interested in project management and succession planning.

"Succession planning is a big concern for many family-owned businesses and working with them provides real-world research for the faculty, with company approval," Habeger said. "Faculty can use these current Iowa business examples when teaching students the same concepts in the classroom."


Her own study
Habeger is familiar with the needs of Iowa's small business community. Working with Kay Palan, associate professor of marketing, Habeger has written a case study based on a business plan for a dog kennel service. The study is under review for publication.

The kennel business plan was another project Habeger pursued following the adoption of her border collie, Talyn, and her developing interest in canine training. This potential business interest also worked hand-in-hand with her volunteer work with STAR 1.

"Working with a search team is a good potential job' for a border collie," Habeger said. "And, the opportunity for volunteer service to the organization was very appealing, even without a canine."

Habeger and Talyn are one of only seven canine teams in Iowa that are nationally certified, a process that includes a written exam covering canine first aid, lost person behavior and knowledge of "scent theory," or how scents move. Part of the certification process involves a field evaluation, in which handlers are tested on proper reading of the body language of the dog and, of course, on whether or not they can find the person.

Talyn also is a "cadaver dog," trained to search for a deceased person at a suspected crime scene. On a recent weekend, Habeger and Talyn were in Plattsmouth, Neb., helping search for the body of a missing toddler. The pair also trains regularly with the kennel master at Offutt Air Force Base, Omaha.

"I'm a person that seeks out experiences," Habeger said. "I'm not one to wait for something to come to me."




---

Ames, Iowa 50011, (515) 294-4111
Published by: University Relations, online@iastate.edu
Copyright © 1995-2003, Iowa State University. All rights reserved.