Aug. 15, 2003
Striking a balance between job and home
by Linda Charles
Balancing work with a personal life can be tough for anyone, but throw in a spouse, another career and maybe a couple of kids, and it can seem like an impossible task. Here is how some in the Iowa State community accomplish it.


Kristen Constant, associate professor of materials science and engineering, joined the Iowa State faculty in 1992. While working toward tenure, she had two sons (in 1994 and 1996). She was awarded tenure in 1998 and had another son the year after. Her husband, Alan, joined the faculty in materials science and engineering in 1997 and currently is working toward tenure.

Red for dad. Constant keeps a color-coded "command center" at her back door so she knows who is doing what and when.
Just say "no." "The university can swallow up your time if you let it. I try to select carefully what I do at the university. If my presence will make an impact, then I'll go. Otherwise, I don't."
Reserved weekends. "I try to minimize the work I do on weekends. We try to do things as a family, like go to baseball games, and talk."
Around the clock. "The university is fairly flexible; I can work any 60 hours I want to." That translates into spending time with her family earlier in the evening, and grading papers later that night, or staying home with a sick child and putting the time in another day.
Pick and choose. "I finally came to the conclusion that I'm not able to do everything to the best of my ability. I pick and choose what is important right now."
Us time. "I go to lunch with my husband once a week."
15-love. "I just recently started playing tennis again at lunch."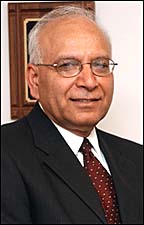 Labh Hira, dean of the College of Business, has been with Iowa State since 1982. His wife, Tahira Hira, assistant to the president, has been at the university since 1980.

Our friends. "We're fortunate in the sense that we work in the same place and know the same folks." That often means having the same friends, "which makes it easier."
Walk and talk. "We both enjoy exercise and we protect religiously our walks together. We try to walk every night, even if we don't get home until 11. And we attend a Monday, Wednesday, Friday exercise clinic together."
A simple meal. "We both enjoy cooking and we eat out often enough for professional reasons that we enjoy quiet time at home. We'll fix a simple meal, like an omelet, and just enjoy each other."
One car. "We made a decision that, in our opinion, forces us to be together. We own just one car. It's easy to become independent if you each have a car. Having one car forces us to be together and it really works for us."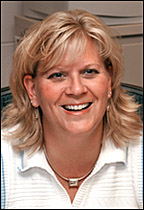 Marcia Anderson has been with the university 21 years, the last 15 as a secretary in the University Marketing and Promotions Office. She has two children (17 and 13), and her husband is the Ellsworth city superintendent. She commutes 28 miles from Ellsworth.

Can't miss it. "I go to as many of the kids' activities as I can. It's a priority. I'll go to work early, work through lunch or stay late so I don't miss the kids' events."
Team effort. "In our family, everyone pitches in to make it work." Her daughter does the laundry and her husband frequently starts dinner. Anderson's office organizes the university's state fair exhibit, which makes for extra long hours. "I try to make up for working at the fair before the fair starts. For example, I'll try to fit in a school shopping trip."
Meet and eat. The Andersons average two meals a week together, many of them at restaurants. "We pick nicer restaurants because that's visiting time for us."
On the road. Anderson enjoys the commute, using the time in the morning "to get my act together" and the trip home to cast off the tensions of the job. "I like to work, but I don't take work home, either physically or mentally. I need to keep it separate."
Time out. "I take an afternoon or a day off for me, to get stuff done or visit family. You have to balance your priorities and remember you're not indispensable at work. The job will be there whether you are or not. I do a good job at work, but it's not my No. 1 priority. My priorities are family, friends and then work."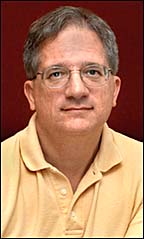 Dan Bullen, associate professor of mechanical engineering, has been with the university 12 years. Bullen also has a presidential appointment to the U.S. Nuclear Waste Technical Review Board, which oversees the technical efforts of the U.S. Department of Energy on the safe shipment, storage and disposal of high-level radioactive wastes. His work keeps him on the road a lot (he has taken 18 trips since January). His wife works at a shop at North Grand Mall and does contract work for movies produced in Iowa. They have four children, ages 19, 17, 13 and 11.

Make it count. Bullen said they try to make the limited time they have together "quality time" with special events, such as the family reunion they recently hosted.
Pencil it in. "You need to be organized and plan family time." His wife keeps a calendar of everyone's activities. "I rely heavily on my wife."
Their best fan. "You need to show an interest in your children. You have to make that special effort for each child." For example, Bullen attends as many games his children are playing in as he can.
Date night. Bullen and his wife go on a date once a month. Sometimes it's to a movie or out to eat, other times for lunch.
The big picture. "You have to determine what's important and realize that there are aspects of your personal life that are more important than your professional life. You have to schedule your professional and personal lives to allow enough emphasis on both."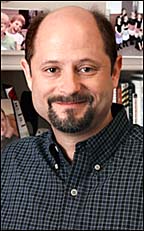 Allan Schmidt, instruction development coordinator with the Instructional Technology Center, has been with the university full time since 1989. His wife, Ellen Rasmussen, is an assistant provost. Three years ago they adopted a boy and a girl (both age 5 now) after serving as foster parents to one of the children.

Log on. "We've installed software on our computers so we can work from home. After the kids go to bed, we'll log onto our computers." They use electronic scheduling programs and PDAs. About twice a week, they go through their schedules to make sure they have all the bases covered.
One's enough. Both Schmidt and Rasmussen try to limit themselves to one civic or church activity. "If one of us has a committee meeting, the other one watches the kids. If our meetings clash, then we hire a babysitter."
More Mom. Schmidt said he and his wife would like to split duties at home 50-50, but "the kids are at an age where Mom is pretty important. She ends up doing more with the kids and I do more with the house."
To Grandma's house. "We try to do something special on the week-ends, like go to the gardens, the Des Moines zoo or a water park. We also go to church together, and we schedule time so the kids can visit their grandparents. We want the kids to have plenty of time with them while they're in good health. And every night we read them a book and take turns putting them to bed."
Weekend getaway. "We realized we weren't spending time together," so now Schmidt and his wife try to get away for an occasional weekend. They also have "date night" on the weekend and they grab lunch together when their schedules allow.
Keep it simple. "We don't go crazy with all the activities available for kids. We carefully choose activities for them. We also fenced in our back yard and added a good play set and sandbox. It keeps the kids entertained and safe, and lets us do things in the house. We include the kids in our chores. They help unload the dish-washer or put clothes down the clothes chute. It helps teach them to be responsible and we're doing it together."





---

Ames, Iowa 50011, (515) 294-4111
Published by: University Relations, online@iastate.edu
Copyright © 1995-2003, Iowa State University. All rights reserved.