July 25, 2003
National Special Olympics here in 2006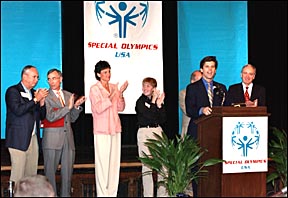 Special Olympics Chairman and CEO Timothy Shriver (at the podium) announces the first Special Olympics National Games will be hosted by Iowa State and Ames. Also shown (from left) are Ames mayor Ted Tedesco, ISU President Gregory Geoffroy, Lt. Gov. Sally Pederson, Special Olympics athlete Jenna Schrack, Ankeny, and Sen. Tom Harkin. Photo by Bob Elbert.

The announcement that Ames and Iowa State will host the first Special Olympics National Games in 2006 was made less than two weeks ago, but planning already is under way.

It's going to be a big event. More than 3,000 Special Olympics athletes, 6,000 family members and friends, 1,000 coaches and official delegates, 8,000 to 10,000 volunteers, and 30,000 spectators are expected to take part. As many as 50,000 people could attend the opening ceremony, said Julie Weeks, director of the Ames Convention & Visitors Bureau and University Conference Services.

The economic impact on the area will be about $6 million, Weeks added.

Iowa State and Ames were chosen over two other cities (Seattle, Wash., and Auburn, Ala.) under consideration for the national games. Weeks said Special Olympics officials visited the area in late spring to check out housing and entertainment possibilities, as well as the locations where events would be held. They also wanted to know about the organizational structure that would support the event.

Special Olympics Chairman and CEO Timothy Shriver announced the games would be coming to Ames and Iowa State at a July 14 press conference on campus.

"They will come to celebrate the singularly important human idea that everybody counts," Shriver said in making the announcement. "We will create an event that has no precedent in the history of this country and one that will be a beacon of hope all over the world."

The games will be held July 3-8, 2006.

Possible competitions will include aquatics, basketball, bocce, cycling, equestrian sports, gymnastics, power lifting, soccer, softball, tennis and volleyball. Most events will be held at the Iowa State Center, Beyer Hall, Forker Building and the Lied Center, along with some parks and other areas in Ames.

The national games will be similar to the Iowa Special Olympics Summer Games that are held on campus in May, "except for the magnitude," Weeks said. "There will be a lot more events, entertainment and educational activities."

Already, plans are to make the opening ceremony on July 4 a full stadium show, complete with fireworks.

Just like the Iowa Special Olympics Summer Games, the National Summer Olympics will rely heavily on volunteers to make everything run smoothly. While university and community residents will be a strong volunteer force, others from the state and region also will help with the games.

Weeks said the Iowa Special Olympics Summer Games on campus during the next three years will be a good training opportunity for volunteers who will help with the national games.

"We think this is a great opportunity for the state, Ames and Iowa State University," Weeks said. "The Special Olympics is about athletes, education and entertainment.

"It's a great match."




---

Ames, Iowa 50011, (515) 294-4111
Published by: University Relations, online@iastate.edu
Copyright © 1995-2003, Iowa State University. All rights reserved.