July 03, 2003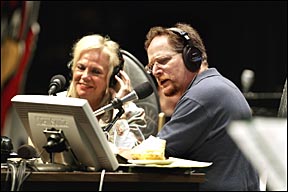 Quiz time
Whad'Ya Know host Michael Feldman visits with a phone contestant during the quiz portion of his live public radio program June 21 in Stephens Auditorium. WOI Radio member Linda Tossey, Des Moines (left), was the studio participant for the quiz. It was Feldman's second broadcast from Ames; the first was in 1987. Photo by Gary Clarke.
---

Ames, Iowa 50011, (515) 294-4111
Published by: University Relations, online@iastate.edu
Copyright © 1995-2003, Iowa State University. All rights reserved.