July 03, 2003
Preparing to become a Cyclone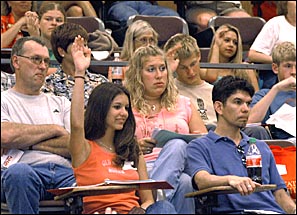 Michaun Sanchez responds to an inquiry during a College of Liberal Arts and Sciences session in Lush Auditorium. To her left is her dad, Lionel Sanchez.

by Anne Krapfl
She was nervous and a little preoccupied, she admitted, with the math and English placement tests. Her "summer vacation" brain might be a little soft, she feared. Fortunately for Michaun Sanchez, the placement exams were over within her first three hours on campus, leaving another day and a half to relax, soak up truckloads of useful information and enjoy her orientation experience at Iowa State.

Sanchez, an incoming freshman from Kearney, Neb., who will study meteorology, is one of nearly 3,500 freshmen who attended orientation last month. Orientation is half of the "transition" effort called new student programs at Iowa State. The other half is Destination Iowa State in August, which gets freshmen moved in, meeting classmates and learning about their responsibilities as ISU students several days before upperclassmen arrive.

Accompanied to Ames by her parents, Lionel and Cindi Sanchez, Michaun Sanchez packed a lot into her visit. Some stops were mandatory: an afternoon session coordinated by each of the colleges, an introductory visit with her academic adviser, placement tests, getting an ISUCard, setting up an e-mail account, registering for fall semester classes.

Most of orientation, though, is a highly organized but loosely structured chance to seek answers to all the questions nagging first-time college students. Hundreds of Iowa Staters staffed orientation during its 21-day run, hoping to reassure both students and their parents they had made a good choice. They included college administrators, faculty, academic advisers, staff and 31 Cyclone Aides -- trained student guides in new student programs.


Michaun Sanchez and her adviser, Xiaoqing Wu, geological and atmospheric sciences, discuss her fall class lineup.
For Sanchez, the uncertainties included:
What buildings will a lot of my classes be in and do I know where they are?
Can I bring my car to campus?
When is the sorority "Rush" week and how do I participate in that?
Are there any options for getting into a class section labeled "closed?"
Do I still feel as if I'll fit in here?

The right fit
A good fit is important to Sanchez, who graduated in a class of 48 from Kearney Catholic High School this spring. Because of its reputable meteorology program, she applied to Iowa State sight unseen. She is the first in her family to attend Iowa State, and arrived on campus last month not knowing anyone who attends or works at the university.

Sure, she was a little surprised at how easy her decision was, in the end.

"Out-of-state-tuition is high, so I mostly focused on Nebraska schools," she said. "But I got some scholarships (including a full-tuition George Washington Carver scholarship) and I fell in love with the campus when we visited, even in winter. It feels very welcoming to me, and the staff has been so nice.



In the Agronomy Hall reading room, Michaun Sanchez logs into AccessPlus to register for fall classes.

"If I didn't think I'd fit in, I wouldn't come here," she added.

Her dad confirms that.

"Michaun got that warm and fuzzy feeling here right away," he said. "We agree, it's the right fit for her."

By the middle of the second day, her parents were feeling better, too, about sending their first child to college six hours from Kearney. About a half-dozen sessions, specifically designed for family members attending orientation, help them prepare for the changes they will experience.

"I appreciated the discussion and role-playing we had in a lot of the sessions," Lionel Sanchez said. "Your child calls and wants to drop a class, your child needs money -- those discussions were very helpful.

"Our sessions also opened my eyes to the commitment to the students, from faculty and from the staff," he added.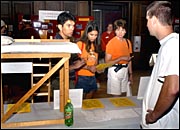 With her parents, Lionel and Cindi Sanchez, Michaun inquires about loft kits during the orientation resource fair in the Memorial Union Great Hall. She also confirmed the dates for Destination Iowa State in August, inquired at the Panhellenic booth and registered as a student parishioner with a local church.

Photos by Adam Patridge and Bob Elbert

Like her daughter, Cindi Sanchez said her own anxiety diminished during orientation.

"I know she's ready for this next step, but I just feel better about sending her here, knowing about all the support systems Iowa State has in place to make sure they succeed," she said.


Waiting for August
At the end of nearly two days, Sanchez headed back to Kearney for a few more weeks, now knowing the words to the Iowa State fight song, the name and office location of her adviser, the logistics of AccessPlus, that she's four years and 124 1/2 credits from her degree, that she'll need to study harder and longer than she ever has, and that she picked the right school.

"I learned a lot and really enjoyed walking around the campus on my own," she said. "It makes me all the more excited to come here."




---

Ames, Iowa 50011, (515) 294-4111
Published by: University Relations, online@iastate.edu
Copyright © 1995-2003, Iowa State University. All rights reserved.