July 03, 2003
A planner -- when possible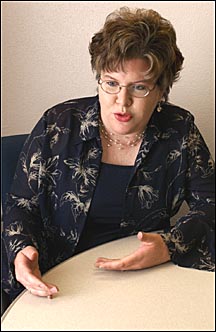 Annette Hacker became manager of News Service in January. Photo by Bob Elbert.

by Debra Gibson
She may well have been the most ambitious student reporter/photographer at the Audubon County Advocate-Journal. Annette Hacker's charge 17 years ago was a simple one: Stay busy finding the big newspaper stories, or you'll fill your time typesetting cookbooks.

"I aimed for no slow days," she recalled recently. "And in Audubon, that's tough." Ahh be careful what you wish for.

A slow day may now be just a fantasy for Hacker, manager of ISU's News Service since January. For the past six months, this public relations and marketing professional has been managing communications -- crisis and otherwise -- for her alma mater.

A typical week for Hacker, who lives with her husband and two young sons in Pleasant Hill, may involve fielding media calls, creating experts lists for topical issues, issuing public statements on behalf of the university, writing news releases, conferring with ISU administrators, supervising a team of media relations professionals, strategizing with other university communicators, conducting media training for campus personnel and generating positive news coverage for Iowa State.

And that's considered a quiet week.

"Definitely, it's been a very tumultuous, activity-filled six months," Hacker said recently from her office in the Communications Building. "You never know what the day will hold in News Service. I'm a planner, but when that phone rings, I'm never sure what's going on at the other end."


Previous stops
Hacker's professional background has prepared her well for frenzy. Bolstered by an ISU undergraduate experience that involved at times working four jobs while attending classes, she entered the work force full time following her 1990 graduation as a broadcast journalism major. She wrote and edited materials for the Iowa Association of Electric Cooperatives, served as director of communications for the Greater Des Moines Convention and Visitors Bureau, and for five years prior to coming to ISU, worked as a senior account executive and senior vice president at a Des Moines advertising agency and a public relations firm.

"Agency life is like no other PR career," Hacker said. "There's a reason you don't often see 50- and 60-year-olds working in agencies -- the all-nighters are far more frequent than any of us would like. But I wouldn't trade that experience for anything. I learned more in the agencies than in all my other positions combined."

Though Hacker says, "I never thought I'd grow up and come back to ISU," several friends encouraged her to apply for the news service management position. Once hired, she knew at least one thing: "I was sure there would be more news to share about Iowa State than there was time possible to get it out there."

"Annette was selected from a large pool of candidates because of her range of professional experiences, her knowledge of the news media and demonstrated ability to handle lots of issues and projects simultaneously," said John McCarroll, University Relations director. "She has quickly established herself on campus by getting to know administrators, faculty and students, and taking on some difficult issues. She is smart, a quick learner and a real asset to News Service and the university."


It's not just about page 1
Though Hacker has discovered that unlike private sector clients, "not all faculty have seen the value of what media attention can do," she remains enthusiastic in her pursuit of promotion.

"Some tend to narrowly define public relations as media relations -- getting people on TV and in the newspaper,'" Hacker said. "But our job really is to help the university meet its goals and objectives, manage issues and solve problems. Strategic communication needs a place at the table in that process. A page 1 story in The New York Times is great, but if the story doesn't reflect an Iowa State goal or address a targeted audience, what did it accomplish?"

Coaching faculty and staff to most effectively share their messages is a task high on Hacker's priority list. For those employees who may find themselves staring at a camera or reporter's notebook, Hacker suggests the following strategies:
Go into an interview with the goal to express, not impress. "If you could write your own lead to the story, what would you say?" Hacker counseled. "Develop your key message and two or three supporting points.

"And remember that reporters don't always take the straight route to getting information. We can show you how to move away from less relevant questions and refocus on what you really came to talk about."


Breathe and relax. "Reporters are people like you and me," Hacker said. "They're just doing their job, which is to get the story."


Oversimplify. "Most reporters have very general educational backgrounds, and, unless they're specialists, they don't have heavy science training, for instance," she continued. "As journalists, they are required to know a little bit about a lot of things and cover a broad range of news. Their average readers comprehend information at an 8th-grade level.

"So boil down your information into the simplest meaningful terms, so a reporter can accurately cover it and the reader will understand it."

If these media contacts are the result of a crisis or difficult situation, Hacker offered additional tips.


"Call University Relations before it becomes a crisis," she said. "Give us an opportunity to plan and help manage the issue."


Do the right thing. "You can't communicate your way out of what you behaved your way into," Hacker said.


Move quickly. "Be thoughtful in your planning and your process, but move quickly."
After five
On the rare occasion that Hacker herself ceases to move quickly, she enjoys attending her sons' Little League games and figure skating practices. She's an avid reader ("although lately I renew more books than I read"), especially biographies ("the only reason I agreed to digital cable: The Biography Channel"), and the whole family enjoys travel.

With a half-year at ISU behind her, in what direction is Hacker planning to head?

"My career has developed from a combination of hard work, careful planning and happy accidents," Hacker said. "I want us here at News Service to approach our work strategically and proactively. PR shouldn't be an afterthought.

"On the other hand, we also have to be able to think on our feet -- and then run."




---

Ames, Iowa 50011, (515) 294-4111
Published by: University Relations, online@iastate.edu
Copyright © 1995-2003, Iowa State University. All rights reserved.