July 03, 2003
Hail damage repair to begin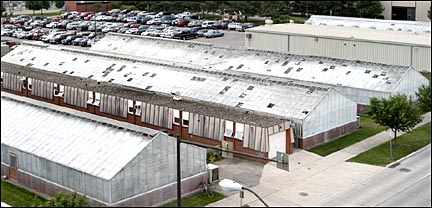 This bird's-eye view indicates the difference in hail damage between greenhouses with tempered glass panes (front) and those with double-strength glass panes (middle two houses). Photo by Adam Patridge.

by Anne Krapfl
Repair work will begin next week to campus greenhouses and university fleet vehicles damaged by hail in a May 30 storm.

Shortly after the storm, the university sought separate bids to repair hail-damaged cars, vans and trucks and replace more than a thousand panels in greenhouse roofs, mostly in the northeast corner of central campus.

David Strom, manager of transportation services, said 140 vehicles in the campus fleet sustained damage. Of those, 110 vehicles -- mostly 2002 and 2003 models -- will be repaired by an Ames body shop. The work will be spread over four months to keep vehicles available for use.

Strom said he opted not to repair about 30 vehicles, either because the damage was very light or the vehicles were older work trucks and vans.

The university's fleet is self-insured, but Strom said he will pay a $250 deductible per vehicle, costing Iowa State about $25,000.

Since transportation services generates all its income, Strom said the money will be made up by delaying vehicle purchases and other purchases in the office. He said he won't raise rental rates next year.

Crews from an Ohio greenhouse manufacturer arrive on campus July 7 for $140,000 worth of repair work to about a half-dozen greenhouses used by the agronomy, plant pathology and horticulture units and the U.S. Department of Agriculture. The work will take about three weeks. (Federal funds will repair the USDA facilities.)

Most of the greenhouses that sustained hail damage have panels made from double-strength glass, said Bob Currie, assistant director of facilities services. Greenhouses hit by the storm but not damaged are made with tempered glass panels. All the replacement glass will be tempered glass, he said.

Plastic panels damaged on several agronomy greenhouses will be replaced with "impact modified" acrylic panels, Currie said.

The university, through the office of risk management, will request state funding for the repairs. If the request is denied, general building repair funds will pay for repairs to university greenhouses, Currie said.




---

Ames, Iowa 50011, (515) 294-4111
Published by: University Relations, online@iastate.edu
Copyright © 1995-2003, Iowa State University. All rights reserved.