June 13, 2003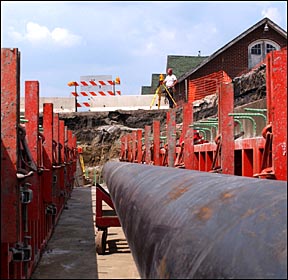 A really big hole
That deep trench between the Industrial Education II and Insectory buildings on Pammel Drive will contain steam and condensate line extensions to the north campus chilled water plant. Site work has begun for the plant, just east of the Printing and Publications Building. The plant, consisting of a building for equipment and a cooling tower, will accommodate growth in the north part of campus. The excavation visible above is a tunnel that will extend about 800 feet north of Pammel. Digging and pipe extensions will continue for another 800 feet north of the new chilled water plant. Photo by Bob Elbert.


---

Ames, Iowa 50011, (515) 294-4111
Published by: University Relations, online@iastate.edu
Copyright © 1995-2003, Iowa State University. All rights reserved.