June 13, 2003
Mason stays counselor at heart despite many hats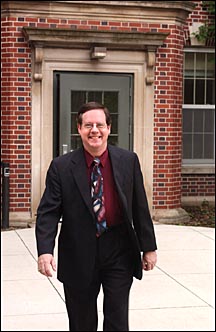 Terry Mason has taken on two interim appointments in addition to his regular position. Photo by Bob Elbert.

by Anne Krapfl
He's not the first Iowa Stater to build a reputation as the "go-to" guy for temporary leader-ship appointments. But Terry Mason may be among the few to hold concurrent interim appointments.

Mason, assistant vice president for student affairs and director of the student counseling service, became interim director of the Memorial Union May 1, following MaryJo Mertens' retirement. Last week, when Teresa Branch departed Iowa State for the University of Montana, Mason also became interim associate vice president for student affairs.

"I don't think the original design was for me to do both," Mason admitted from the Memorial Union director's office. "This is kind of an unusual time at Iowa State, with David Bousquet, MaryJo Mertens and Teresa Branch all leaving about the same time. If you're part of the team, you need to step up, and this is what's needed right now.

"I appreciate the confidence Dr. (Tom) Hill has shown in me. I hope I can get done all he needs me to do," he said.

With ownership of the Memorial Union officially transferred to the university at the end of March and renovation to the building under way, there's lots to do there. Mason's career experience as an organizational consultant comes in handy, and in his usual, upbeat way, he loves being able to help.

If Memorial Union employees initially were reluctant to become part of a much bigger entity -- the student affairs umbrella of the university -- he said he thinks attitudes are changing.

"The whole staff here has been wonderful to work with. There is a real 'up' side to these changes and I think people will see great benefits to being part of Iowa State," Mason said.

Already, the benefits include computer upgrades -- nearly two-thirds of the staff computers in the building will be replaced or upgraded this summer -- and a new ticketing system (to replace TicketMaster) that will be installed this summer. In addition to selling tickets for entertainment venues like the Maintenance Shop, the system also can be used by student organizations holding events in the Memorial Union.

Mason and others also are exploring temporary options to provide access for all to the Sun Room, a room that has been inaccessible to those who use wheelchairs. The first phase of the building renovation will permanently fix that problem.


A counselor first
Mason readily admits that helping people is "what gets the fires burning for me." The Baltimore native followed his older brother to Iowa's Cornell College. Mason was in a pre-med track because he wanted a people-focused career, until he tired of "cutting up cats and ruining organic chemistry lab experiments" and discovered psychology. He took seven psychology courses his senior year at Cornell to graduate magna cum laude with a double major in biology and psychology.

He immediately headed to Texas Tech, to pursue a Ph.D. from one of only a handful of programs accredited at that time by the American Psychological Association. In a national ranking process akin to how medical students and hospitals select each other for residencies, Mason first landed in Iowa State's student counseling service in July 1981 to complete a one-year doctoral internship. The experience redirected his career.

"I also have a minor in business management from my doctoral program and up to that point, I planned to go into the private sector, into organizational consulting," Mason said. "I decided here (Iowa State) I wanted to be in a (campus) counseling center."

He said university students are bright, excited about learning and motivated to make changes in their lives.

"And there's something about working with the world's future leaders," Mason said. "Maybe, just maybe, you helped them get where they are."

He had positions at Southern Illinois and Texas A&M universities before returning to Iowa State in 1993 to lead the student counseling service.

In spite of the load of administrative duties at the center and on-campus committees that the director's job commands, Mason said he personally tries to provide counseling for a few clients, usually four or five students at any time.

"I love the therapy part of my job. I love helping students learn about themselves," he said. "Counseling is about learning."

Iowa State students, Mason said, reflect several national trends at campus counseling centers:
They are bringing more emotional and behavioral problems with them to college and at higher rates.
The severity and frequency of those problems are increasing.
They are more likely to seek help for their problems because counseling is becoming more acceptable and less stigmatic.
He estimated that about one in 10 ISU students seek counseling help at the clinic. The issues range from abuse at home to eating disorders, relationship problems and career issues to just plain anxiety. Of the students who come to the clinic, about 18 percent are clinically diagnosed with depression, and an alarming number have more-than-fleeting ideas about suicide. Mason and 11 other trained counselors assist students in one-on-one and group settings. They also assist faculty and staff who call with concerns about students.

"The counseling center is good for the university," Mason said. "We know the issues our students are dealing with affect their academic performance and the likelihood of their staying in school."

In fact, a study Mason and two colleagues published six years ago in the Journal of Counseling Psychology showed just that. In their study, students who sought and received on-campus counseling were retained better (14 percentage points better) than students who asked for counseling help and for various reasons didn't receive it. The study since has been repeated by others, with similar results, Mason said.


Interim team
It's shaping up to be a full summer for Mason. He credits lots of others with helping him get the job done: his wife Teresa and sons Trey (16 years) and Travis (11), who support his 12-hour work days and each other in his absence, his staff at the student counseling service who keep the center humming, the staffs in student affairs and the Memorial Union who are helping fill gaps this summer.

"Lots of people are making sacrifices to make this work," he noted.

Mason chairs the search committee assigned to find a new director for the Memorial Union. With campus interviews planned for the middle of this month, he said he's hopeful the committee will relay its recommendations to Hill by July 1. The new director could start as early as September. The search for the next associate vice president for student affairs is just under way and may take longer. Mason said he expects to fill that interim role through some of fall semester.

Until then, he'll divvy up his days among the Union, Beardshear and Student Services Building -- and keep moving.

"This beats the Oprah diet," he laughed. "You're always on the move and sometimes just not in the right spot to grab a meal."




---

Ames, Iowa 50011, (515) 294-4111
Published by: University Relations, online@iastate.edu
Copyright © 1995-2003, Iowa State University. All rights reserved.