June 13, 2003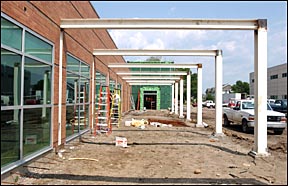 Almost ready
The Extension 4-H Youth Building on the north edge of campus is on schedule for completion the last week in July. Employees, arriving from four other campus buildings, should be settled in by late September. The building officially will be dedicated Nov. 8. Photo by Bob Elbert.


---

Ames, Iowa 50011, (515) 294-4111
Published by: University Relations, online@iastate.edu
Copyright © 1995-2003, Iowa State University. All rights reserved.