May 23, 2003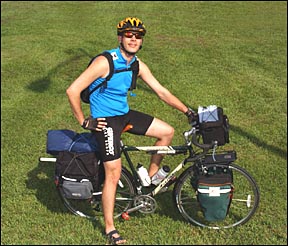 Long, lofty goal
Iowa State spring graduate Jesse Shumaker hopes to raise $1.75 million for Shriners Hospitals in a 4,700-mile bike ride this summer. Organizing the ride was Shumaker's Honors project spring semester. A group of seven riders will start at Astoria, Ore., on June 5 and finish in Boston on Aug. 15. More about Shumaker's "Road Show USA" is available online at http://www.iastate.edu/news/today/03/may/bikeride.html. Photo by Bob Elbert.
---

Ames, Iowa 50011, (515) 294-4111
Published by: University Relations, online@iastate.edu
Copyright © 1995-2003, Iowa State University. All rights reserved.