May 23, 2003



ALSO SEE: Online garden tours.
Reiman in bloom all summer long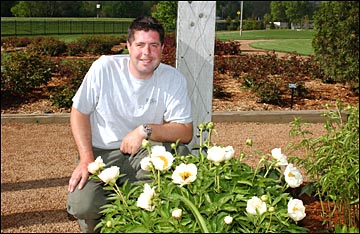 Flowers all summer
It's peony season at Reiman Gardens. More than 100 varieties of peonies at the gardens will be at their prime until early June. Ed Moran (pictured), Reiman Gardens ag specialist, says prime rose season is next. While the roses will be at their peak the first half of June, most will continue to bloom all summer. Photo by Bob Elbert.

by Linda Charles
There will be blooms aplenty at Reiman Gardens this summer, everything from peonies and roses to water lilies and native grasses. Different weeks will mean different flowers are at their peak. Ed Moran, ag specialist at the gardens, offers the following guide for finding your favorite flower in full bloom.

Peonies
Now is the time to see more than 100 varieties of peonies at Reiman Gardens. Some of the peonies are rare and were developed in the 1940s. Peonies normally start opening Mother's Day weekend, although the cool weather this spring has slowed them a bit. The prime time to view the peonies, including the unusual Yellow Heaven, is mid-May to the beginning of June.

Roses
Roses peak the first and second week of June, although they bloom all summer. The gardens boast about 2,000 rose plants, representing 254 varieties. Reiman Gardens received the All-America Rose Selections President's Award in 2001. The award is given annually to one public garden that surpasses the organization's high standards for rose care and presentation.

The rose gardens contain many commercially available roses, such as floribundas, grandifloras and hybrid tea roses. There are more than 70 Buck roses, which were developed by Griffith Buck, a horticulture professor at Iowa State from 1948 to 1985. Buck roses were bred to survive the cold Midwest winters and resist common rose diseases. Also on display in the gardens are All-America Rose Selection winners and about 25 varieties of antique roses. The antique roses tend to bloom earlier than other roses, and many only bloom once. The peak viewing time for the antique roses is the end of May.

Water lilies
Not much happens in the water gardens until June because water temperatures must be at least 70 degrees before the plants can be put in. Among the plants you'll find in Lake Helen are hardy and tropical plants, like papyrus, reeds and lotus. You'll also find the Victoria water lily, which has six-foot leaves. A couple of the lilies only bloom at night.

Home landscapes
The Town and Country Garden is designed for viewing all season. The 12 gardens showcase different designs and solutions for homes. There, you will find front and back yard gardens, a shade garden and a formal lawn garden, to name a few. The home production garden, featuring culinary, medicinal and fragrant herbs, peaks mid- to late summer.

Herbs
The popular herb garden is ripe for viewing from early summer on.

Annuals
With 190 varieties, you can find an annual at its peak almost any time over the summer. Among the annuals are cannas, coleus, floss flowers, Egyptian star clusters and butterfly plants.

Perennials
The gardens also boast a wide selection of perennials, including several varieties of grasses. The grasses tend to bloom in late summer or early fall. There also are a variety of wild flowers, which bloom throughout the year.

Bulbs
It's probably too late to see many of the spring bulbs in bloom. You can find them next year in early April through the first part of May.

Indoor plants
The conservatory has rotating displays of plants. From May 19 to Aug. 25, the conservatory will be decked out like Lake LaVerne, complete with Lancelot and Elaine topiaries. Orchids will be featured near the end of August, and late October will bring a chrysanthemum display.

Butterflies
The indoor butterfly wing is always stocked, but here's a tip: The best time to see the butterflies is on a sunny day after a cloudy day. Nectar plants start producing lots of nectar on such days, which in turn, causes a lot of activity among the butterflies.

Admission
Admission to Reiman Gardens is $5 for adults, $4.50 for those 65 and older, $3 for children 4 to 17 years old, and free for children 3 years and younger, members of CoHorts and ISU students. The gardens are open from 9 a.m. to 4:30 p.m. Monday through Wednesday, 9 a.m. to 7 p.m. Thursday through Saturday, and 11 a.m. to 7 p.m. Sunday. The conservatory and butterfly wing is closed Mondays.




---

Ames, Iowa 50011, (515) 294-4111
Published by: University Relations, online@iastate.edu
Copyright © 1995-2003, Iowa State University. All rights reserved.