May 2, 2003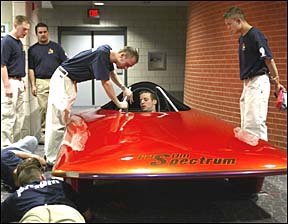 Two months to go
Team PrISUm members prepared to unveil the university's seventh solar car a week ago in Howe Hall. The team is gearing up for the American Solar Challenge, a Chicago-to- Los Angeles solar car race of nearly 2,300 miles, July 13-23. An Iowa State team last participated in the challenge in 2001, finishing 16th. Photo by Gary Clarke.


---

Ames, Iowa 50011, (515) 294-4111
Published by: University Relations, online@iastate.edu
Copyright © 1995-2003, Iowa State University. All rights reserved.