May 2, 2003
University volunteers make Special Olympics happen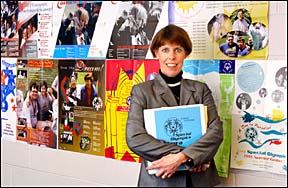 Lana Voga, chair of the university's Special Olympics steering committee, is one of many on campus who volunteer every year to work on the games. Photo by Bob Elbert.

by Linda Charles
Lana Voga "got hooked" on the Iowa Special Olympics Summer Games the first year she volunteered, turning her morning session into the entire day. She has volunteered every year since.

Voga, customer relations specialist at Printing Services, chairs the university's Special Olympics steering committee. The 16-member committee is filled with "Lana Vogas," -- people from across the university who dedicate hours of time each year to put the "Special" in the Olympics.

"The Iowa Special Olympics Summer Games is one of the best in the nation," Voga said. "We're definitely right up there in the Top 5."

Founded in 1968, the games provide sports training and athletic competition to mentally handicapped athletes from 8 to 80 years old. This year's games will be held May 22-24 on campus.

Steering committee members begin planning the Special Olympics in January, Voga said. Once the schedule is set, members gather their own committees to map out details.

"The steering committee members are who make all of this happen," Voga said. "Everyone just pulls together. They really take ownership in it."

Voga became involved with Special Olympics the second year it was held at Iowa State. She served as a "hugger," cheering the athletes and hugging them when they crossed the finish line.

The next year, she volunteered to help with the opening ceremony, eventually becoming chair of the ceremony planning committee.

Next, she tackled the festival (special events for the athletes). "I didn't know what it was supposed to be, so I just started adding events," she said.

Finally, Voga joined the steering committee, which she has chaired for the last eight years.

Her favorite part of the Special Olympics is watching the faces of the Special Olympians "ignite" during the Parade of Athletes at the opening ceremony. "I love watching the interaction between the athletes and our student Cyclone Aides. Our students relate to them so well."

This year's opening ceremony will begin at 7:30 p.m. Thursday, May 22, at Hilton Coliseum. It will include a laser show and performance by the Pocahontas drill team. ("The team came one year, and then asked if it could come back every year," Voga said.)

Also on the program will be President Gregory Geoffroy, Vice President for Business and Finance Warren Madden, Ames Mayor Ted Tedesco and two Cyclone athletes -- four-time All-American track star Gina Curtis and basketball guard Anne O'Neil.

Without university volunteers, the Iowa Special Olympics Summer Games could not happen, Voga said. Besides the steering committee, more than 800 volunteers provide a variety of services, such as fielding softballs, congratulating participants and escorting them to award areas.

Most who volunteer once, volunteer again, Voga said. In some departments, an entire office will volunteer for a shift.

Voga finds the time she puts into the Special Olympics rewarding. "It is such a great pleasure. It gives me a sense of fullness. In the end, I receive far more than I give."


Parking
The 2003 Iowa Special Olympics Summer Games are expected to draw 3,000 Special Olympians and their families to campus.

To accommodate the games, Wallace Road will be closed to through traffic from 8 a.m. to 10 p.m. Thursday and Friday, May 22-23.

Parking lots affected by the games on Friday, May 23, are:
Lot 3 (between Beyer and Howe halls): Closed except for those with handicap, 24-hour reserve or Special Olympic permits
Lot 50A (by Forker): Closed except for those with handicap permits
Lot 57 (west side of Lied): Closed except for those with reserve, handicap or Special Olympic permits
Lot 100 (south side of Lied): Closed except for those with Special Olympic permits
---

Ames, Iowa 50011, (515) 294-4111
Published by: University Relations, online@iastate.edu
Copyright © 1995-2003, Iowa State University. All rights reserved.