May 2, 2003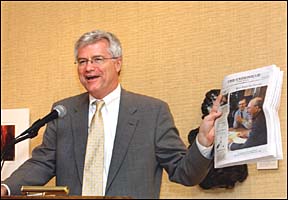 Trust and planning
Developing a strategic plan that provides direction and building trust on campus are two critical issues facing Iowa State, vice president for academic affairs and provost Benjamin Allen said during a campus forum April 23. "It's very important to have a plan that provides direction, and then be sure everything else (such as the budget and promotion and tenure decisions) follows it," Allen said. Allen came back to the "trust" issue several times during the forum, which was organized to give him an opportunity to discuss his leadership of the university's academic units. "I'm picking up through the conversations I'm having that in certain pockets of the university, maybe that level of trust -- not with the president but with the provost office -- is not quite where it should be," he said. During a light moment, Allen held up a recent issue of The Chronicle of Higher Education with the headline "More Power for Provosts" (above). The forum is available in streaming video through the P&S Web site at http://www.iastate.edu/~ps_info/streamingforums.html. Photo by Bob Elbert.


---

Ames, Iowa 50011, (515) 294-4111
Published by: University Relations, online@iastate.edu
Copyright © 1995-2003, Iowa State University. All rights reserved.