April 18, 2003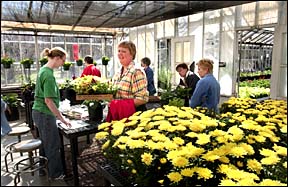 A perennially popular sale
Nearly 50 varieties of plant annuals and perennials were snapped up by local gardeners last week during the ISU Horticulture Club's annual Veishea bedding plant sale. Held in the horticulture greenhouse, the sale netted about $2,500 for the club. Photo by Bob Elbert.


---

Ames, Iowa 50011, (515) 294-4111
Published by: University Relations, online@iastate.edu
Copyright © 1995-2003, Iowa State University. All rights reserved.