April 18, 2003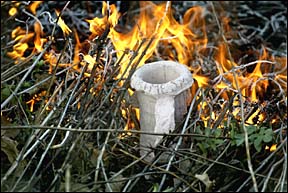 Ritual burning
Clay pots made by faculty, staff and students were part of a prairie burning ceremony April 14. The jars were covered with different washes, such as saltwater, manure and charcoal, and then burned with prairie grass at the College of Design. The fire and smoke reacted with the washes, creating a range of effects. Burning the prairie is a traditional spring cleansing ritual. It regenerates a number of smaller plants that are choked out over the years by larger plants. Photo by Gary Clarke.
---

Ames, Iowa 50011, (515) 294-4111
Published by: University Relations, online@iastate.edu
Copyright © 1995-2003, Iowa State University. All rights reserved.