April 4, 2003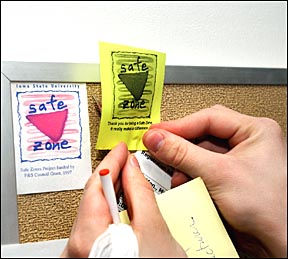 Thanks
Members of the Lesbian Gay Bisexual Transgender and Ally Alliance handed out thank-you notes last week to people who displayed "safe zone" stickers, which indicate areas of understanding, non-judgment and knowledge of lesbian, gay, bisexual and transgender persons' concerns. Photo by Bob Elbert.
---

Ames, Iowa 50011, (515) 294-4111
Published by: University Relations, online@iastate.edu
Copyright © 1995-2003, Iowa State University. All rights reserved.