April 4, 2003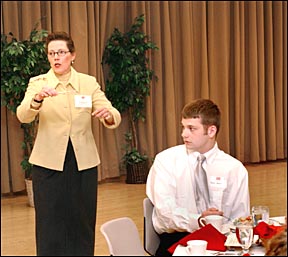 Manners mentor
Patricia Tice (above, standing) discusses proper use of utensils during the Student Alumni Leadership Councils annual etiquette dinner March 30. Students enjoyed a full-course dinner while perfecting their table manners to enhance their job marketability. Photo by Bob Elbert.
---

Ames, Iowa 50011, (515) 294-4111
Published by: University Relations, online@iastate.edu
Copyright © 1995-2003, Iowa State University. All rights reserved.