March 17, 2003
A union of contrasts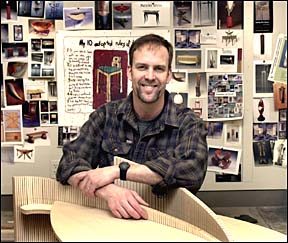 Chris Martin

by Teddi Barron
Chris Martin hadn't slept much for the previous three or four nights, looking more like a freshman during finals week than an assistant professor of art and design. He still faced a three-hour night drive to deliver his work to an exhibit in Minnesota. It didn't seem to faze him, though. He moved around his workshop-studio with the energy and wonder of a pre-schooler at DisneyWorld.

"I absolutely love working with my hands. I would shrivel up and go away if I didn't get to use my hands. That's what drove me to art," he said.

Martin chose furniture as his medium for expression because he likes the scale.

"It's personal and easy to relate to," he said. "And it's important for me to join my ideas and inspirations with an everyday, usable object. It's much more of a challenge."

Martin, who heads Iowa State's wood design program, calls himself a designer-maker. The Custom Furniture Source Book, however, considers him one of 125 craftsmen who are "North America's finest furniture makers."

It hasn't taken Martin long to land in the upper echelons of American furniture designers. In 1990, he graduated from Iowa State with the Janice Peterson Anderson Award, which honors the Design senior exhibiting the greatest potential. He earned his M.F.A. in furniture design with honors from the Rhode Island School of Design in 1994.

Since then, his distinctive chairs, desks, tables and cabinets have taken residence in galleries and homes across the country.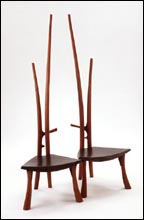 Katai chair, 2002: cherry and steel.





One piece -- a club chair of steel and rubber -- is among 23 in The Furniture Society's juried and invitational traveling exhibit, "The Right Stuff." Next month, Martin's work will be part of the show, "New Furniture Part II: Forged/finessed," at Chicago's Function+Art Gallery. His award-winning work has appeared in more than 20 juried national or international shows and in 16 additional exhibits in the past four years. It's currently on display at the Octagon Center in Ames.

Each piece of Martin's furniture is a union of contrasts. Wood and steel. Concrete and leather. Samurai and shaker. Classical and organic. Ritual and commonplace. Fantasy and verity. Art and function.

"Since childhood, I've enjoyed fantasy literature based on the cultures of the feudal samurai and the medieval knight," Martin said. "I'm intrigued by their mythologies, and the battle between good and evil."

Before joining the faculty at Iowa State in 1999, Martin made his living as a cabinet and furniture maker in Aspen, Colo. He also started his own business as a custom furniture maker. His pieces, which can take up to 200 hours to make, are priced between $525 for a side table to $6,200 for a desk.

Last fall, Martin was commissioned to design 14 pieces -- including a lamp and light fixture -- for a new "Woodworker's Room" at the Hotel Pattee in Perry. The room honors owner Roberta Ahmanson's father, who was a hobbyist wood-worker.

"When I designed the pieces, I used simple forms, playing off the idea of Shaker furniture and the Amana colonies. But the furniture is still very contemporary," he said.

Martin also supervised the work of the 10 furniture makers, including five graduates of Iowa State's wood design program, who crafted the pieces. All the woods used -- white oak, maple, walnut, cherry, raisin maple -- are native to Iowa, he said.

Martin is a wood collector. He searches scrap heaps at Iowa sawmills for unique materials, like pieces of reclaimed redwood from old wine vats, and rejects, like a board of ash adorned with a lightning bolt crack. He has had that board for more than 10 years, waiting for the "absolute perfect design for it."

Grabbing a board, he said, "This sap wood is amazing. Many look at this wood and see cracks and blemishes and knots. But those are the beautiful parts. They tell a story."

The process of transforming scraps of wood and hunks of metal into fine art is the essence of Martin's work.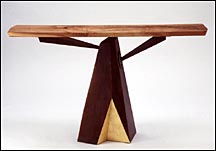 Foyer table, 2003: Maple, steel and gold foil.

"For me, the process of creating is as important, if not more so, than the finished piece. I have an insatiable appetite for exploring new materials and techniques," he said.

"Manipulating red hot steel is spell binding. Hand finishing a beautiful piece of wood is meditative. I'm fascinated by the process."

It's not an easy process to teach, however.

"It's kind of 'teenage angst and power tools' at first," said Martin, who loves to teach. "I teach them the techniques to work with materials and tools. They come with their own design sense and it's my job to help them realize it, help them find their own voices," he said.

Martin said he hopes to further develop his own design voice by studying in Japan.

"I have an Asian influence that keeps popping up in my work. It's very unconscious, which I think is interesting," Martin said.

"Japanese culture is so driven by process; everything is ritual. Maybe that's why my pieces are so diverse, because I'm fascinated by process. And that's something I try to instill in students. The process is critical."




---

Ames, Iowa 50011, (515) 294-4111
Published by: University Relations, online@iastate.edu
Copyright © 1995-2003, Iowa State University. All rights reserved.