March 17, 2003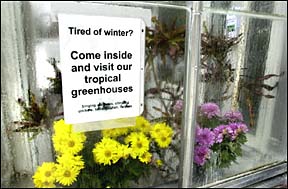 Enticing
Spring break starts tomorrow. If the warmer weather holds, campus walkers won't see more signs like the one above that was taped to the window of an ISU greenhouse last week. Inside will take a break too; the next issue is April 4. Photo by Bob Elbert.


---

Ames, Iowa 50011, (515) 294-4111
Published by: University Relations, online@iastate.edu
Copyright © 1995-2003, Iowa State University. All rights reserved.