March 17, 2003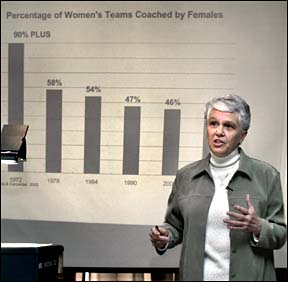 Twenty-five years later
"You give little girls a good coach, half decent facilities, some budget and they'll come running to play sports. They're just the same as the boys. They have the same interest. And they have the same ability. All they need is the opportunity."


-- Christine Grant,
former women's athletic director,
University of Iowa, during her March 6 campus talk on the national status of Title IX (1972 federal legislation prohibiting sex discrimination in school programs, whether academic or athletic).


---

Ames, Iowa 50011, (515) 294-4111
Published by: University Relations, online@iastate.edu
Copyright © 1995-2003, Iowa State University. All rights reserved.