February 28, 2003
Prof receives national engineering distinction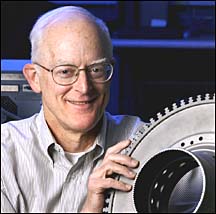 Bruce Thompson's work in nondestructive evaluation was a determining factor in his recent election to the National Academy of Engineering. Photo by Bob Elbert.

by Skip Derra
R.Bruce Thompson, distinguished professor of engineering in two disciplines -- aerospace engineering and materials science and engineering -- has been elected to the National Academy of Engineering (NAE).

Election to NAE is considered one of the highest professional distinctions accorded an engineer. Thompson is one of 77 new national members and nine new foreign associates elected to the NAE.

Thompson -- also the director of the Center for Nondestructive Evaluation and a senior scientist with the U.S. Department of Energy's Ames Laboratory -- was elected for his "outstanding contributions to nondestructive evaluation, materials processing and life-cycle management, and for the development of novel ultrasonic technology," according to the academy.

"This is very flattering, a great personal honor," Thompson said. "But I think it is a testimony to the work of many people, because NDE is an interdisciplinary field. Successful approaches must include important contributions from the fields of physics, materials, mechanics, electrical engineering, statistics and others."

Thompson was chosen based largely on his work in nondestructive evaluation (NDE), which is the practice of testing a material's ability to perform its intended function and prevent failure without destroying the sample.

NDE is commonly used in aviation and space industries to test the flight worthiness of vehicles. It also is used in the energy industry to determine the integrity of critical structures like those in nuclear power plants and pipelines.

NDE recently has branched into new areas, such as the testing of bridges, highways and other infrastructure; testing of machinery, like that used in agriculture; and the monitoring of manufacturing processes.

Thompson's research covers a wide range of NDE issues and methods, including ultrasonics, electromagnetics, material property measurements and flaw characterization.

Among his accomplishments is the development of a set of novel sensors that can perform ultrasonic inspection without contacting a part.

He also developed improved computer tools for simulating the results of inspections and managing the service lives of structures.

Thompson's research serves as the foundation for a number of small businesses.

He is one of only three NAE members who have made nondestructive evaluation their career work. One of the others is retired Iowa State distinguished professor Donald Thompson.

Thompson came to ISU in 1980 as a senior scientist with the Ames Laboratory and as an adjunct professor in the College of Engineering.




---

Ames, Iowa 50011, (515) 294-4111
Published by: University Relations, online@iastate.edu
Copyright © 1995-2003, Iowa State University. All rights reserved.