February 14, 2003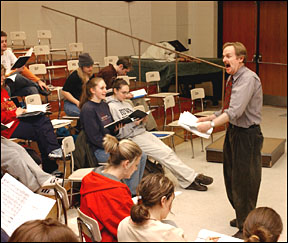 That's "ye," not "yoouuuu"
Professional diction coach Stephen Gabis, New York City (right), visited campus for a week earlier this month to work with the cast members of Brigadoon on their Scottish English. Brigadoon, this spring's Stars Over Veishea production, will be performed April 11-13; theater faculty member Terence Goodman will direct. Photo by Bob Elbert.
---

Ames, Iowa 50011, (515) 294-4111
Published by: University Relations, online@iastate.edu
Copyright © 1995-2003, Iowa State University. All rights reserved.