February 14, 2003
Campus recycling czar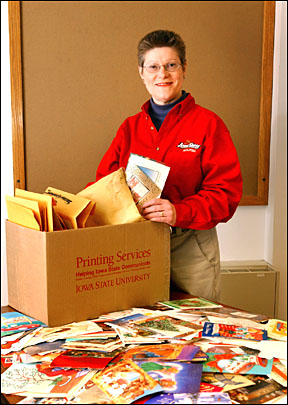 One of Gloria Erickson's current projects is collecting used greeting cards for a fund-raising project at a children's group home. Photo by Bob Elbert.

by Debra Gibson
Gloria Erickson's first job, fresh out of high school, was to keypunch ISU data secured from dairy barns around the state. Crucial to her productivity was a Plexiglas ruler, which Erickson used to scrape off the occasional bovine remnants gracing the stat sheets.

Thirty years later, you might say the Ames native has made a career out of dealing with the university's waste.

Erickson, in her role as program assistant for facilities planning and management, is Iowa State's unofficial recycling czar. It's typically her name and phone extension listed on the fliers posted around campus reminding us to scorn trashcans and patronize blue bins. New telephone directories barely find their slots in our desk drawers before Erickson has spearheaded a volunteer drive to collect the old ones.

Ever modest, Erickson credits past student groups for enlightening the campus on the merits of recycling. Ten years ago, members of the Graduate Student Senate initiated the program to collect white paper products. Erickson joined the original oversight committee, and as recycling efforts grew on campus, their management eventually became an official component of her position.

Today, the familiar blue plastic bins are in nearly every campus building, collecting 12.5 tons of white paper each month. Campus Services employees empty the bins weekly, with truck loads eventually making their way to the Weyerhaeuser site in Des Moines.

The university is reimbursed at the market rate for its white paper. Currently, Iowa State receives about $67.50 per ton from Weyerhaeuser, although at times the payout has been more than $100 per ton. These reimbursements go back to the university's refuse account.

Equally important, Erickson said, is that "recycling is another way to get rid of refuse. For each ton of paper we recycle, that's another ton of garbage we don't have to pay the Ames Resource Recovery Plant to take."

By Erickson's calculation, that savings, plus the Weyerhaeuser reimbursements, salts away $8,000 to $9,000 per year for Iowa State, "and it's better for the earth," she added.


Phone book tower
A group of creative engineering students back in 1994 was the impetus behind the phone directory pick-up project, Erickson said.

"The students wanted to collect enough old phonebooks to build a tower on a street near the Memorial Union," she recalled. "They didn't collect enough to do that, but they still managed to round up almost three tons of books."

Erickson became involved in the phonebook collection the following year. In December 2002, ISU recycled a record volume of 11.9 tons of phonebooks, breaking the previous record of 9.76 tons set in 2000.

Iowa State must pay Weyerhaeuser in Des Moines $45 per ton for the books. Even so, Erickson points to savings of more than $5,000 since the phone-book recycling program began, based on higher refuse costs the university isn't paying.

In 1999, the university began its newspaper-recycling project with 12 collection bins. Bins required for newspaper recycling are more expensive fireproof metal containers, Erickson explained. They cost about $260 each, compared to the blue bins for white paper that cost about $60 each. Just this month, the university added six more newspaper collection containers to campus buildings.

A local recycling company, Bikes At Work, transports the newspapers from the bins to a trailer on campus. Once the trailer is filled, Weyerhaeuser comes to campus and swaps the full trailer for an empty one.

Bikes At Work is reimbursed $3 per container it collects, and Weyerhaeuser is paid $15 per ton of newspaper. Last year, Iowa State recycled nearly 40 tons of newspaper, compared to 24 tons annually when the program began in '99. Because of the costs involved, Erickson reminds university employees to only recycle those newspapers received at work, and to not bring papers from home.


Cards for kids
Erickson's most recent recycling project involves used greeting cards. Through Feb. 28, she is collecting the fronts of cards only, which she will send to the St. Jude's Ranch for Children in Nevada and Texas. Residents there will create new greeting cards and sell them in their gifts shops. ISU's Office of Business and Finance will pay to mail the cards to the ranch.

"In this case, it's perfectly fine to donate any cards you've received personally, as well as those that may have come to your office," Erickson explained. "We can't point to any dollar savings with this project, but it's certainly a philanthropy for the university."

While Erickson's role as campus recycling coordinator is but one part of her overall job responsibilities, she devotes considerable time to making sure Iowa State is doing as much as it can to protect the environment.

"With our budget situation, I always worry about the future of recycling here at Iowa State," she said. "It's such an interest of mine, and I dearly wish Iowa State could have a full-time recycling coordinator."


Her homework
In the meantime, Erickson investigates recycling products such as soda cans, mixed-color paper and corrugated cardboard, when not juggling her other job responsibilities. She also spearheads many of the philanthropic projects for her department, even volunteering to shave her head before the holidays as a fund-raiser. (Fortunately, another employee "won" that contest.) For fun, she and her husband Dennis, also an FP&M employee, cheer on Cyclone teams and spend time with their daughter, Lindsay, an ISU sophomore in elementary education.

For like every other important resource, Erickson won't waste time, either.


Can you help?
Most campus buildings boast recycling coordinators who assist Erickson in her efforts. However, the following buildings still need volunteers: Andrews-Richards, Atanasoff, Coover, Curtiss, Genetics Lab, Hamilton, Landscape Architecture, LeBaron, Pearson, Physics, Research Park/Bldg. 4, Student Services, Swine Research Facility, Transportation Services, Westgate and the laundry and administrative buildings in University Village. Anyone interested in assisting can contact Erickson, 4-7977, gerickso@iastate.edu.

For more information about ISU recycling efforts, log on to http://www.fpm.iastate.edu/recycling.




---

Ames, Iowa 50011, (515) 294-4111
Published by: University Relations, online@iastate.edu
Copyright © 1995-2003, Iowa State University. All rights reserved.