January 31, 2003
Iowa State, Ames unify conference planning efforts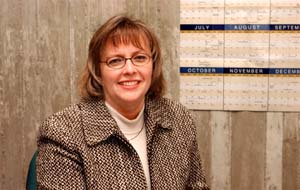 Julie Weeks, director of the Ames Convention & Visitors Bureau, recently was hired to also head up the university's conference programming. Photo by Bob Elbert.

by Debra Gibson
When thousands of high-achieving kids storm the campus this spring for the annual Odyssey of the Mind competition, their every move will be overseen by a newly formed city-university coalition.

Though the Ames Convention & Visitors Bureau (ACVB) has long worked in tandem with University Conference Services and ISU's Office of Continuing Education to coordinate large group meetings and events, those organizations are now tackling these projects as a unified entity. Earlier this month, Vice Provost for Extension Stan Johnson announced the hiring of Julie Weeks, ACVB director, as head of the university's conference programming as well.

"This is truly a unique arrangement between a university and a community," Weeks said. "This just shows how well the city of Ames and Iowa State work together already. We have been very dependent upon one another in the past -- we're just taking the arrangement to the next level."

While the Office of Continuing Education has long planned on-campus conferences, seminars, meetings and events for Iowa State faculty and staff as part of extension outreach, the university's foray into conference planning with off-campus clients didn't begin until 1993. When its services merged last year with the Office of Continuing Education, the search was on for a new university director.

In the meantime, the ACVB's board of directors was brainstorming ways to strengthen that organization's relationship with Iowa State. Weeks' involvement with the university's programming had intensified during its search for leadership, resulting in the decision to appoint her director of all three units.

Weeks has been employed in the hospitality industry for 25 years. She spent 16 of those years at the Hotel at Gateway Center, serving as director of operations and general manager. She worked for seven years at the Iowa State Center as its director of conference services, and has spent the past two years as ACVB director.

"For years, ACVB and ISU have been sharing booth space and staff at trade shows and partnering in our sales, marketing and advertising efforts," Weeks explained. "All along, [ACVB] has been helping the university with services it didn't have, and vice versa. Add to that [Provost] Ben Allen serves on the ACVB board, and this couldn't be a more natural arrangement."

Likewise, Weeks doesn't predict conflicts of interest between the organizations. "When we look to bring a group to Ames, our goal is to provide them whatever they need," she said. "The more groups we can bring to Ames, the better it is for the campus, for its recruitment, for the exposure to Iowa State."

While the new arrangement begins to gel, Weeks plans to spend Mondays and Tuesdays of each week in each of her two offices (ACVB: 1601 Golden Aspen Drive; ISU: 102 Scheman Building), "moving my laptop from one office to the other." The rest of the week will find her in planning meetings or attending the planned events. Those wishing to discuss potential conferences with Weeks can reach her at 956-4600, or at jweeks@iastate.edu.

"We now have the resources to direct you to whatever facilities or services your group needs," Weeks said. "If you have a potential event, we'll set up a meeting with university and community professionals to work with you to make it all happen."

Entire packages can be purchased for conference management, or specific services are available particular to an organization's needs. Those services can include organizing lodging, meeting rooms, meals, registration, financial management, marketing, advertising, transportation, Web sites and amenities.




---

Ames, Iowa 50011, (515) 294-4111
Published by: University Relations, online@iastate.edu
Copyright © 1995-2001, Iowa State University. All rights reserved.