January 24, 2003



SEE SPEECH: Text of President Geoffroy's speech at the diversity forum


Geoffroy: Diversity is much more than the "right" thing to do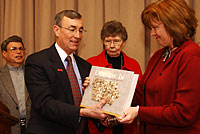 Shellie Orngard (right), program coordinator for the state's Life in Iowa program, presents President Gregory Geoffroy with a signed copy of Outside In: African-American History in Iowa 1838-2000 during the forum. Looking on are retired ISU faculty members and contributors to the book, David Gradwohl and Dorothy Schwieder. Photo by Bob Elbert.

by Anne Krapfl
President Gregory Geoffroy challenged participants at the Jan. 24 diversity forum to lead the way in changing the diversity climate on campus. He asked them to listen to others' concerns, be aware of their own words and behavior, and actively support diversity by attending programs that promote or celebrate diversity.

Nearly 400 staff, faculty and students participated in the President's Forum on Diversity, intended to kick off a Friday diversity series this semester. In groups of about a dozen, they talked about roadblocks to achieving a campus environment that is supportive of all, and also were asked to identify strategies for improving diversity.

The ideas were recorded and will be shared with the President's Advisory Committee on Diversity and the Office of Student Diversity within the Government of the Student Body (GSB), two of the forum's planning groups. Some will become topics for other Friday discussions this spring.

Geoffroy said diversity is important for reasons beyond being the "right" thing to do. If Iowa State wants to be known as a place that welcomes and supports all, the university community must not only tolerate, but also embrace diversity. By achieving a more diverse environment, Geoffroy said, Iowa State becomes a stronger learning place because of the broad range of people and learning experiences it draws on.

He also noted that achieving the goal of the nation's top land-grant university means hiring the best people, many of whom increasingly come from traditionally underrepresented groups in higher education, such as women and ethnic minorities.

These goals "start with you and will be successful because of you," he said.

Geoffroy also placed responsibility on the university administration and on governing groups, such as GSB and Faculty Senate, to develop programs and policies that support diversity "and protect it from attack."

During the forum, Geoffroy received an autographed copy of Outside In: African-American History in Iowa 1838-2000 from five of its 38 authors, including four with ISU ties. Through the contributions of 106 donors, a copy of the 600-page book will be given to every public school library in Iowa.

Follow-up Friday conversations on diversity will be organized throughout the semester. Watch " Today's News" on the ISU home Web site for details.




---

Ames, Iowa 50011, (515) 294-4111
Published by: University Relations, online@iastate.edu
Copyright © 1995-2001, Iowa State University. All rights reserved.