January 17, 2003
Crowd pleaser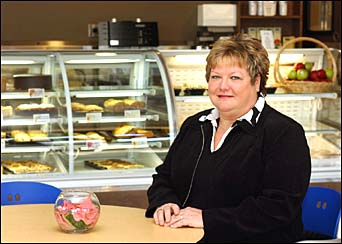 Karen Miskell Larson is the assistant director, catering, for ISU Dining. Photo by Bob Elbert.

by Anne Krapfl
Decorated Rice Krispie bars on lollipop sticks for the opening of a childcare center. A cheese block carved into "ISU" and little frosted football cookies for game day patrons. Survivor theme parties. A 3-D campanile cake for a graduation day brunch. The Cyclone athletic logo painstakingly carved into the sides of melons for an alumni gathering. An eight-foot-wide butterfly cake (enough cake for 2,000) to open Hazel's Kitchen, the new Reiman Gardens café.

If it sounds like too much fun to be "work," toss in standard 10-hour days and weekend work during at least half of a year's Saturday-Sunday combos. This job belongs to Karen Miskell Larson, a 26-year veteran of food service at Iowa State and head of the catering arm of the new ISU Dining.

"I do work weird hours and I work a lot of hours," Larson said. "But I have a wonderful staff, a lot of energetic, creative people. We recognize that every event is important. The goal is to make them all different without driving our employees crazy."

As ISU Dining emerges from the blending of food operations in the residence department and Memorial Union, Larson's catering oversight will include Reiman Gardens, the Memorial Union and Scheman Building and catering to all campus buildings. On Jan. 1, food service staff in the Memorial Union officially became university employees. Larson estimates that the full merger of the operations -- including standardizing computers and software, merging and editing recipe files, and training employees -- will be at least a five-year process.

Merging catering services is something she has practiced. From its beginnings in the early 1980s until 2001, catering was an additional duty for each of the residence department's dining locations. Stewart Burger's resignation from the ISU Dining director's post in 2001 forced some accelerated changes and Larson was named catering coordinator. In July of that year, residence catering was centralized out of the Wallace-Wilson Commons, where Larson's team currently works. Since November, a centralized bakery -- for the residence department, the Memorial Union and the Scheman Building -- has operated in the Knapp-Storms Commons. The bakery, staffed now from midnight to 7 p.m., is moving toward a 24-hour operation. Bakers prepare everything from breadsticks and banana bread to tiered wedding cakes -- or a butterfly cake, if you prefer.

Also in the works are plans to hire an executive chef and sous (assistant) chef to coordinate large catering events more easily and elevate menu offerings.

The goal? Simple. Build "one of the best campus catering services in the nation."


The coast or bust
Larson grew up on a farm outside Story City amid grandmothers and a mother who were good cooks and farm helpers who needed to be fed. She helped prepare meals and acquired skills and interest in things culinary. 4-H projects gave her further practice. While a student in Iowa State's hotel, restaurant and institutional management program in the early 1970s, she worked as a cook at Riverside Manor nursing home in Ames and later at the grill in the old Memorial Union Commons. Her first job after graduation -- a temporary one, she assumed -- was as a supervisor in banquet services for Memorial Union dining.

Larson had her eyes set on the East Coast, a career in perhaps restaurants or a university food service. She visited a friend in New York City her first summer out of school and also spent time investigating Boston. A bit to her surprise, she returned home with a changed heart.

"I still love to visit, but it just wasn't home to me. Too much cement," she explained.

Her interest in travel, both domestic and abroad, has served as more than "get-away" time.

"I have traveled in Germany, France, Italy and most of the United States, including Alaska and Hawaii," Larson said. "I think this has given me appreciation for different foods and creativity for planning parties."


3,000 game-day meals
Larson's former academic adviser, Tom Walsh, hired her in residence dining in 1977, where she worked a 5 a.m. to 2 p.m. shift for six years as assistant manager of the Knapp-Storms dining center. Then it was on to Linden Hall, where she served as dining manager -- and where residence catering was launched.

It all started with special events for Sharon and Tom Galloway, former dean of the College of Design.

"They entertained as part of his dean duties and we did catering on the side for them," Larson explained.

Soon after, she and Burger put together a proposal to provide meals and snacks to patrons in the football stadium's four suites during home games. Over 20 years, that service has grown to 3,000-plus meals on game day, from individual parties in the stadium's 23 sky suites, to a buffet for media members, to meals for visiting potential football student athletes and their parents, to food at the president's pre-game party, and more.

"I coordinate all the events, but everyone helps on game day," said the always-humble Larson. "Nearly all our management staff works those days."

After a decade at Linden Hall, Larson moved back to the Towers, as the area coordinator for the two dining centers and coordinator of the residence department's catering service. Eighteen months ago, her job became full-time catering.

"I enjoy what I do and feel like I've been able to keep moving forward," Larson said. "I don't feel stagnant in my career."

She credits her staff, including part-time student help, for a lot of that satisfaction.

"I like working with the staff here. My 'employee challenges' don't compare to what my friends on the coasts tell me about," she said.

"And it's great to meet alumni and other clients who are so positive, so dedicated to Iowa State. They like to see our students doing a good job."




---

Ames, Iowa 50011, (515) 294-4111
Published by: University Relations, online@iastate.edu
Copyright © 1995-2001, Iowa State University. All rights reserved.