January 17, 2003
Textiles faculty create one-of-a-kind gown for First Lady Vilsack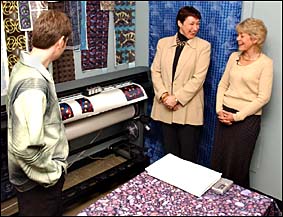 Textiles faculty J.R. Campbell (left) and Jean Parsons (center) wait with Christie Vilsack as the first fabric for Vilsack's inaugural ball gown comes off the printer. Photo by Bob Elbert.

by Debra Gibson
When Iowa's First Lady Christie Vilsack enters the inaugural ball this evening, she will be wearing evidence of politics at its best: a one-of-a-kind gown, made from exquisite imported fabric -- and all originating just 40 miles north on the ISU campus.

In this case, "imported" refers to computers. The gown is made from fabric digitally designed and printed by J.R. Campbell, textiles and clothing. When Vilsack approached Campbell's department in December about ISU students designing her gown, he and colleague Jean Parsons volunteered for the project.

"It was the week before finals and we knew students wouldn't have the time," Campbell said. "Since Jean and I have done a lot of work in the past with digitally printed garments, we thought Mrs. Vilsack might be interested in our involvement. She was very excited with the idea."

Knowing the First Lady's affinity for Terrace Hill, the governor's mansion, Campbell scouted the residence for inspiration. "What stood out most for me was the stained glass," he explained. "It definitely had the most potential for vibrant imagery."

In the meantime, Parsons was sketching illustrations for potential gowns. Campbell then scanned them into his computer and began merging his stained glass photographs with Parsons' illustrations.

Once Vilsack approved the final design, Parsons created patterns, mostly through the use of muslin drapings. The final pattern pieces were converted from a computerized pattern-making program into Photoshop computer files, where Campbell placed his photographic imagery into the pieces (a process that took about 15 hours).

Transforming the imagery onto the fabric is "like printing with a regular inkjet printer, only in a wider format modified for use in fabrics," Campbell explained. It took about four hours to print the pattern pieces onto the six yards of white silk-satin fabric, which was pretreated, paperbacked and purchased from a California company.

Once the fabric was printed, it was steamed, a process that set the acid dyes permanently onto the silk and made the colors much more vibrant. From there, Parsons and graduate student Bethany Angell constructed the gown and matching jacket, along with a corresponding tie and cumberbund for Gov. Tom Vilsack.

Though Campbell and Parsons have created many wearable art pieces through digital textile printing, this was their first collaboration for a specific person and event.

"We paid much more attention to fittings, and to engineering the print to correspond with the appropriate parts of the body," Campbell explained. "Until now, we haven't had as many opportunities to design for clients on this level -- we're very excited about the visibility."

While national media already have taken notice, Christie Vilsack's upcoming appearance at the national Gubernatorial Ball in Washington, D.C., no doubt will attract attention as well.

"This process is still very rare in couture," Campbell explained. "I can guarantee there will not be any other digitally printed gowns in the room that night."




---

Ames, Iowa 50011, (515) 294-4111
Published by: University Relations, online@iastate.edu
Copyright © 1995-2001, Iowa State University. All rights reserved.